Characteristics of the atmospheric electric field and correlation with CO2 at a rural site in southern Balkans
Earth, Planets and Space
2016
68:3
Received: 24 July 2015
Accepted: 18 December 2015
Published: 15 January 2016
Abstract
In the current work, 4 years of atmospheric electric field observations at a rural site near Xanthi, Greece, are presented for 2011–2014. The site is situated in an area with very high radon fluxes and high thunderstorm activity. The annual variation is consistent with that at other Northern Hemisphere continental stations, with maxima (minima) occurring during the cold (warm) months. The diurnal variation of the atmospheric electric field both for fair weather (FW) and all weather is found to exhibit a double-peak structure corresponding to local effects and global thunderstorm activity. Comparison with the Carnegie curve shows that nighttime hours and winter months are preferable for observing the Global Electric Circuit at the Xanthi site. Finally, it is shown that atmospheric CO2 measurements can be effectively utilized as a stratification proxy, indicating conditions of potential radon trapping, whereas CO2 was found to anticorrelate with the atmospheric electric field during such conditions.
Keywords
Atmospheric electric fieldPotential gradientGlobal electric circuitCO2
Introduction
The relationship of global atmospheric electric circuit (GEC) with solar–terrestrial interactions (Rycroft et al. 2012) and climatic change monitoring (Rycroft et al. 2000) highlights the significance of conducting atmospheric electricity observations. Nevertheless, a deficit is generally present in qualitative and continuous measurements of atmospheric electricity properties (Israelsson and Tammet 2001), which likely has led to an incomplete knowledge of GEC and its relationship with interacting factors (Dolezalek 1972; Israelsson and Tammet 2001; Reddell et al. 2004).
The most suitable parameters for monitoring GEC are the ionospheric potential, vertical air–earth conduction current, and atmospheric electric field measured at the surface (Rycroft et al. 2008). The latter is known as potential gradient (PG). By convention, PG is defined as the ratio of the local potential at height z to that height, PG = dV(z)/dz. PG is defined to be positive during fair weather (FW) days and is related to the vertical component of the atmospheric electric field by Ez = −PG. PG has the capability to reflect changes in GEC if measured at pollution-free sites such as oceans, mountain peaks, and Antarctica and during FW conditions (Reiter 1974; Harrison 2013; Siingh et al. 2013). Moreover, PG is one of the most commonly measured atmospheric electrical parameters for long periods (Nicoll 2012). The resulting abundance of historical and contemporary data for different latitudes helps to improve the understanding of GEC (Märcz and Harrison 2003).
PG observations at continental sites, which are generally not considered ideal for GEC monitoring, are more abundant than those in relatively clean environments. PG at continental sites is subject to influences from local factors such as aerosol pollution, space charge, and natural radioactivity, which are able to alter or mask the daily and seasonal GEC signal (Rycroft et al. 2008). However, these effects do not prevent PG measured under FW conditions from showing features of GEC at some times or through averaging (Harrison 2004a), making that way continental sites also useful in GEC observation. Further, because PG at continental sites is subject to influences from aerosol pollution, space charge, and natural radioactivity, as previously mentioned, its study at such sites may also offer insights into a variety of other phenomena, processes, or events such as fires (Mather et al. 2007; Ippolitov et al. 2013; Conceição et al. 2015), air pollution (Harrison 2006; Silva et al. 2014), visibility (Harrison 2012), boundary layer monitoring (Piper and Bennett 2012), natural radioactivity assessment (Garcı́a-Talavera et al. 2001; Latha 2007), and earthquakes (Silva et al. 2011; Silva et al. 2012). Moreover, the usefulness of PG measurements in the research of severe meteorological phenomena such as thunderstorms cannot not be disregarded (Pawar et al. 2014; Pawar et al. 2015).
The use of the Carnegie curve is a typical method for identifying periods in hourly, seasonal, and annual time scales when PG represents global variations or local factors. The Carnegie curve, having resulted from PG measurements of the Carnegie cruise ship conducted at various points on the world's oceans, shows the diurnal variation in PG which is related to global thunderstorm activity and is considered as the global FW background PG (Harrison 2013). A comparison of the standard Carnegie curve with PG measurements at Eskdalemuir, Scotland, has shown that although the station is of continental character and the aerosol periodicity was expected to determine PG variation, the PG closely follows the GEC cycle; this behavior is more pronounced during winter (Harrison 2004a). The same was observed at other Northern Hemisphere continental stations including those in Marsta, Sweden, and Nagycenk, Hungary (Israelsson and Tammet 2001; Märcz and Harrison 2003).
Analysis of atmospheric electricity observations at as many locations around the world as possible is required for a better understanding of the GEC (Kumar et al., 2009). Thus, efforts have been invested in the development of networks (Sheftel et al. 1994; Popov et al. 2008) and databases (Dolezalek 1992; Tammet 2009), which can provide atmospheric electricity data from different locations. The comparison of PG measurements from sites displaced at substantial distances could identify common variations, which are attributed to the global circuit in the absence of coincident local factors (Harrison 2004b). Moreover, PG observations at a variety of global locations could provide an opportunity for better understanding of the local factors controlling PG and, as previously mentioned, for helping to advance our understanding of a variety of geophysical processes.
In this study, 4 years of PG data recorded from February 2011 to December 2014 at a newly established rural station are presented. The data for a 1-year period of June 2011 to May 2012 are analyzed more thoroughly considering ancillary data available for this period. The station is located in the southern Balkans near Xanthi, Greece, and is the only one in this region. The next closest stations are in Nagycenk, Hungary, at a distance of 970 km (Märcz and Harrison 2003) and in Mitzpe Ramon, Israel, at 1500 km (Elhalel et al. 2014). In addition to the presentation of the local PG climatology, the suitability of the site in observing GEC is examined in this study.
Further, the possibility of utilizing atmospheric CO2 measurements in assessing the daily variation in PG is studied, and special consideration is made for the times at which enhanced stratification coincides with the anticipated occurrences of the GEC signal. Because this is a novel aspect in the studies of PG related to atmospheric gases (e.g., Guo et al. 1996), we plan to address this topic more thoroughly in future work.
Methods
Study site
The study location is a rural site on the Campus of Democritus University of Thrace (41.15° N, 24.92° E, 75 m above sea level) near the town of Xanthi (population 65,000), Greece. The site is at the edge of a smooth, south-facing slope with a valley reaching the seashore about 20 km to the south and the east–west-oriented Rodopi Mountain Range located to the north (Fig.
1
). The ground surface around the station is mostly covered with soil and grass; areas covered by concrete and asphalt are significantly fewer in number. To the south, at a distance of 120 m, a light-traffic road oriented east–west with a traffic density of 10 (nighttime) to 150 (rush hours) cars per hour connects the main urban area of Xanthi with nearby villages. The distance between the station and the edge of the urban area is 1.7 km to the west–southwest; that between the station and the edge of the closest village, with a population of 3600, is 0.9 km to the east (Fig.
1
). As previously mentioned, the station fills an observational gap in the region because it is the only station within a radius of approximately 1000 km. This station is hereafter referred to as Xanthi station.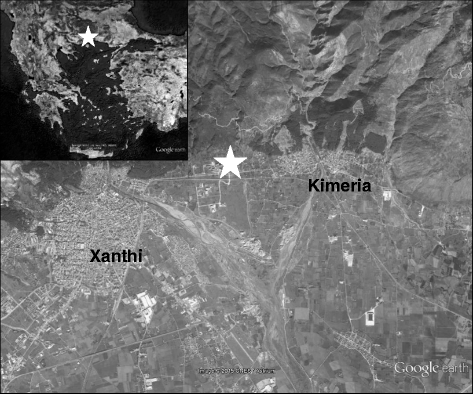 The winds blowing at the site exhibit a rather stable diurnal variation possibly owing to the site location at the boundary between a mountainous area and a valley, which triggers a valley/land breeze closed circulation cell. During the night, the prevailing winds blow from the northwest, whereas after sunrise, the wind direction gradually shifts to southwest, south, and southeast before returning to northwest after sunset.
Instrumentation
An electric field meter (EFM; CS110; Campbell Scientific Co., Utah, USA) has been installed since February 2011. The EFM is mounted on a 2-m mast in reversed position and is surrounded by natural and man-made obstacles such as trees, buildings, poles, and cargo containers. However, these obstacles are at a distance of at least 30 m and do not protrude higher than 18° above the horizon, as seen from the ground at the EFM location, and hence have minimal effects on the measurements (Campbell Scientific Inc. 2011). Dolezalek (1992), citing Benndorf's calculations, stated that the PG values are representative if the distance between the measuring sensor and any field-distorting disturbance is five times the height of that disturbance or three times the height for thin obstacles such as poles. Our site meets these conditions; other stations have similar site characteristics (Kumar et al. 2009; Piper and Bennett 2012; Smirnov 2014).
Because CS110 is a factory-calibrated field mill, no further calibration is needed for its use (Campbell Scientific Inc. 2011). However, the determination of a site-dependent correction coefficient (C site) is essential because of the EFM's elevated and reversed position, which alters the effective gain with respect to an upward-facing flush-mounted installation (MacGorman and Rust 1998). The coefficient C site was determined statistically (Defer et al. 2015) based on the consideration that FW conditions correspond to the theoretical PG value of 100 V m−1 (Takagi and Iwata 1980; Rakov and Uman 2006). C site was calculated by selecting a group of reference FW days and dividing the mean daily PG of each of these days by the typical FW–PG of 100 V m−1 to obtain a number of daily C site determinations. Finally, an overall C site correction coefficient was determined as the mean of the 50 % of the daily C site determinations around the median and was used subsequently to correct the PG data. The resultant PG values are considered relative with respect to the typical FW–PG (100 V m−1) owing to the statistical method used to define C site. The reference FW days were selected from the dataset by using elements from the FW classical definition (Israelsson 1978), i.e., cloud cover less than 3/10 based on the Moderate Resolution Imaging Spectroradiometer (MODIS) satellite MOD08_D3.051 cloud dataset with a resolution of 1° × 1° (King et al. 2003; Remer et al. 2005), wind speed (WS) less than 3 on the Beaufort scale (4 m s−1), no precipitation events, and the 1965 definition of the International Commission on Atmospheric Electricity (Israelsson 1978). On the basis of the latter, days having at least one mean hour PG < 0 V m−1 were considered as disturbed weather (DW) days; negative PG values were attributed to local generators and were excluded. The resulting days span the entire period, hence eliminating any possible seasonal bias.
The EFM operated under two resolution modes because measurements were conducted under all weather (AW) conditions including both FW and DW. For measurements falling within the range 0–2.2 kV m−1, the resolution was 0.32 V m−1 and for those falling within 2.2–22.3 kV m−1 was 3.2 V m−1.
Measurements of atmospheric CO2 by using an instrument equipped with a Gascard II Edinburgh Sensor (Schumann Analytics, Germany) were conducted along with PG within the period June 2011 to May 2012, covering 150 days throughout the seasons. The CO2 analyzer was calibrated against a reference analyzer. Ambient air was continuously sampled from the exact point at which the PG was measured, 2 m in height, by using a pump at a rate of 0.52 l s−1.
Standard meteorological parameters such as WS/direction, temperature, relative humidity, pressure, and precipitation were also recorded since June 2011 by using commercially available sensors that were located at the same site as that of the EFM. WS and direction were measured by using a Wind Sentry Set (Model 03002L; Young Co., Michigan, USA) consisting of a three-cup anemometer and a wind vane with accuracies of ±0.5 m s−1 and ±5°, respectively. Temperature and relative humidity were measured by using a thermometer/hygrometer of ±1.5 % and ±0.3-K accuracy (Model HygroClip S3; Rotronic Co., Switzerland). The pressure was measured by using a barometric pressure sensor of 0.3-hPa accuracy (Model PTB110; Vaisala Co., Finland). The precipitation was measured by using a tipping bucket rain gauge (Model 52202; Young Co., Michigan, USA). Two extra temperature (T) sensors (HOBO Pro v2 T/RH U23-001; Onset, Massachusetts, USA), with solar shields at ±2 % accuracy and ±0.02 % precision, were deployed from February 2012 to May 2012 at heights of 2.5 and 1.5 m to provide the vertical temperature gradient (DT).
All sensors operated at a frequency of 1 Hz with the exception of the extra T sensors at f = 1/60 Hz, and the data were recorded as 1-min means. One-minute PG data were subsequently used to calculate 10-min data, which in turn were used to calculate the hourly means. The PC used for data acquisition was synchronized at regular intervals to the National Institute of Standards and Technology (NIST) time server. Local time (LT), wherever used in the manuscript, refers to Coordinated Universal Time (UTC) + 2; hence, no Daylight Saving Time was applied in summer.
The presented data cover the period February 2011 to December 2014. Data from the period June 2011 to May 2012 were analyzed more thoroughly. Thus far, that period is the only full year with continuous PG measurements and data for all of the other variables.
Conclusions
In this study, the first 4 years of PG observations are presented from February 2011 to December 2014 from a newly established rural station in Xanthi, Greece.
The seasonal FW–PG variation is typical for a continental Northern Hemisphere station, with maxima (minima) during cold (warm) months.
The mean diurnal variation of FW–PG follows a typical double peak of continental sites with the primary maximum between 11:00 and 12:00 LT and the secondary maximum at 21:00 LT. The dominant peak was attributed completely to local factors and specifically to the sunrise effect and the increase of aerosol arithmetic concentration, the latter originating from the initiation of anthropogenic activity. An enforcement of the sunrise effect is probable for the Xanthi site because the station is located at the foot of a hill, and local circulation effects occur after sunrise. The secondary peak could be attributed to global factors because its time of occurrence coincides with the Carnegie curve maximum. However, it is also susceptible to local effects because at the same time, the transition from the maximization of convective conditions to nocturnal stratification could provoke an increase in aerosol concentration (trapped radon) acting positively (negatively) on FW–PG. During warm months of June to October, FW–PG exhibited its primary maxima at 10:00–11:00 LT, whereas during the cold months of November to January, the corresponding maxima were transposed to 12:00–14:00 LT. The remainder of the months, February to May, exhibited an intermediate behavior with maxima at 11:00–12:00 LT. The secondary maximum was apparent only during August, September, January, and May and occurred within 1 h of the Carnegie curve maximum at 19:00 UTC. The diurnal variation of AW–PG generally followed that of FW–PG, although the AW–PG levels were mostly lower. The extensive thunderstorm activity at the site resulted in a deviation of the AW–PG curve from that of FW–PG as well as high AW–PG hourly variability.
The Xanthi nocturnal FW–PG curve correlated strongly with the standard Carnegie curve. The most preferable hours for GEC observation at the Xanthi site were between 01:00 and 04:00 UTC, and cold months favored global signatures more than warm months.
Finally, it was shown that collocated atmospheric CO2 measurements can be effectively used as stratification proxies to identify conditions that favor radon trapping and subsequently alter PG. Under stable nighttime conditions, when CO2 increased stably and had high concentrations, PG was suppressed and GEC observation was not possible. Such a reverse relationship of PG and CO2 during the global signal occurrence could complement the categorization of days as suitable or not suitable in GEC monitoring.
Abbreviations
AW:

all weather
DPG:

difference between FW–PG at Xanthi and the standard Carnegie curve
DW:

disturbed weather
FW:

fair weather
GEC:

global electric circuit
PG:

potential gradient
Declarations
Acknowledgements
We acknowledge funding by TSMEDE for part of the instrumentation used in this work (Pension Fund of Engineers and Contractors of Public Works).
Open AccessThis article is distributed under the terms of the Creative Commons Attribution 4.0 International License (http://creativecommons.org/licenses/by/4.0/), which permits unrestricted use, distribution, and reproduction in any medium, provided you give appropriate credit to the original author(s) and the source, provide a link to the Creative Commons license, and indicate if changes were made.
Authors' Affiliations
(1)
Department of Environmental Engineering, School of Engineering, Democritus University of Thrace, Xanthi, Greece
Copyright
© Kastelis and Kourtidis. 2016