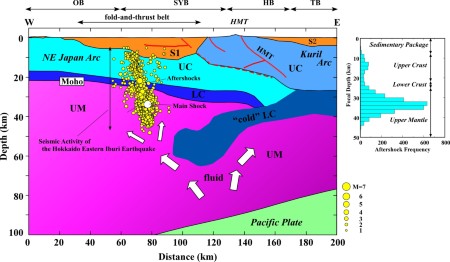 The 2018 Hokkaido Eastern Iburi Earthquake (M=6.7) occurred at a very deep depth (~37 km) beneath the foreland fold-and-thrust belt of the Hidaka Collision Zone, Hokkaido, Japan. From the previously acquired controlled source seismic data, Iwasaki et al. (2019) revealed the detailed structure beneath this fold-and-thrust belt and its relationship with the aftershock activity of this earthquake. Relocated aftershocks are at depths of 7-45 km with steep geometry, extending to the uppermost mantle of the eastward descending NE Japan arc. High aftershock activity in the mantle indicates that the cold crust delaminated from the Kuril Arc side by the arc-arc collision prevents the thermal circulation and cools the mantle to generate favorable conditions for brittle fracture.
Article Processing Charges
From 1st September 2018 Earth, Planets and Space levies an article-processing charge (APC) of 1,200EUR for full papers, express letters, and technical reports.
A discounted APC is available for Members of the Society of Geomagnetism and Earth, Planetary and Space Sciences, the Seismological Society of Japan, the Volcanology Society of Japan, and the Japanese Society for Planetary Sciences. If you are a member, please check the journal website.

Find us on Facebook
Messages on EPS
This video serves as an introduction to <Journal name> and gives an insight into the relevance of the journal to modern day events, such as the special issue on the 2011 Tohoku Earthquake.
Society affiliation
Aims and scope
Earth, Planets and Space (EPS) covers scientific articles in Earth and Planetary Sciences, particularly geomagnetism, aeronomy, space science, seismology, volcanology, geodesy, and planetary science. EPS also welcomes articles in new and interdisciplinary subjects, including instrumentations. Only new and original contents will be accepted for publication. No review papers will be accepted.
EPS Young Researcher Award 2018
C. H. Chen wins the award as the first author of the following paper.
Medium-scale traveling ionospheric disturbances by three-dimensional ionospheric GPS tomography
C. H. Chen, A. Saito, C. H. Lin, M. Yamamoto, S. Suzuki and G. K. Seemala


EPS Excellent Paper Award 2018

The following paper wins the award.
Preparatory and precursory processes leading up to the 2014 phreatic eruption of Mount Ontake, Japan
A. Kato, T. Terakawa, Y. Yamanaka, Y. Maeda, S. Horikawa, K. Matsuhiro and T. Okuda

The following paper wins the award.
International Geomagnetic Reference Field: the 12th generation
Erwan Thébault, Christopher C Finlay, Ciarán D Beggan, Patrick Alken, Julien Aubert, Olivier Barrois, Francois Bertrand, Tatiana Bondar, Axel Boness, Laura Brocco, Elisabeth Canet, Aude Chambodut, Arnaud Chulliat, Pierdavide Coïsson, François Civet, Aimin Du, Alexandre Fournier, Isabelle Fratter, Nicolas Gillet, Brian Hamilton, Mohamed Hamoudi, Gauthier Hulot, Thomas Jager, Monika Korte, Weijia Kuang, Xavier Lalanne, Benoit Langlais, Jean-Michel Léger, Vincent Lesur, Frank J Lowes, Susan Macmillan, Mioara Mandea, Chandrasekharan Manoj, Stefan Maus, Nils Olsen, Valeriy Petrov, Victoria Ridley, Martin Rother, Terence J Sabaka, Diana Saturnino, Reyko Schachtschneider, Olivier Sirol, Andrew Tangborn, Alan Thomson, Lars Tøffner-Clausen, Pierre Vigneron, Ingo Wardinski and Tatiana Zvereva

Special Issues accepting submissions
Reviewers thank you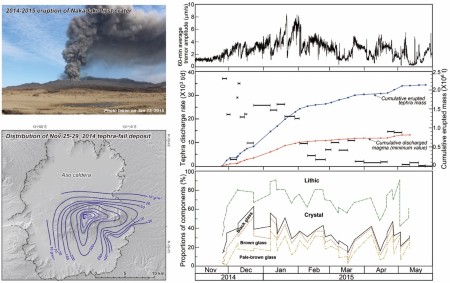 Miyabuchi and Hara (2019) present the distribution, discharged mass, and components of tephra-fall deposits to examine the sequence and characteristics of the 2014-2015 magmatic eruption at Nakadake first crater, Aso Volcano, SW Japan. Continuous monitoring of tephra deposits and visual observation of eruptive phenomena combined with geophysical observations, would provide new insights into magmatic and eruptive processes on small but long-lasting activities at Nakadake Volcano and other similar basaltic to andesitic volcanoes. The readers can download 28 isomass maps and the tephra dispersal data associated with the series of eruptions as additional files.
Proposals for Special Issues
Earth, Planets and Space welcomes proposals for new special issues on focused topics within the scope of the journal. Click here for more information on how to submit a proposal.
Follow
ISSN: 1880-5981 (electronic)
Information
EPS recognizes awards for excellent papers, authors and reviewers:

Most cited papers: