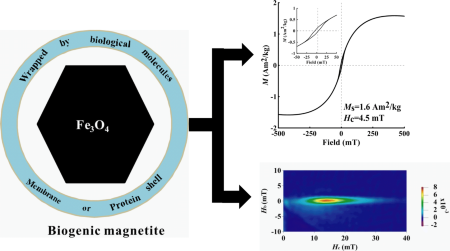 Studies of biogenic magnetite and magnetotactic bacteria are gaining increasing prominence, spanning the disciplines of earth and planetary science and biological science. Zhang and Pan (2018) review the characterization of magnetite associated with magnetoferritins and magnetotactic bacteria. The former relates to important potential biomedical applications whereas the latter applies to the continued effort to define modern magnetotactic bacteria populations and magnetofossils in deep geologic time.
EPS News
Article Processing Charges
From 1st September 2018 Earth, Planets and Space levies an article-processing charge (APC) of 1,200EUR for full papers, express letters, and technical reports.
A discounted APC is available for Members of the Society of Geomagnetism and Earth, Planetary and Space Sciences, the Seismological Society of Japan, the Volcanology Society of Japan, and the Japanese Society for Planetary Sciences. If you are a member, please check the journal website.

Find us on Facebook
Messages on EPS
This video serves as an introduction to <Journal name> and gives an insight into the relevance of the journal to modern day events, such as the special issue on the 2011 Tohoku Earthquake.
Society affiliation
Aims and scope
Earth, Planets and Space (EPS) covers scientific articles in Earth and Planetary Sciences, particularly geomagnetism, aeronomy, space science, seismology, volcanology, geodesy, and planetary science. EPS also welcomes articles in new and interdisciplinary subjects, including instrumentations. Only new and original contents will be accepted for publication. No review papers will be accepted.
A peer-reviewed journal would not survive without the generous time and insightful comments of the reviewers, whose efforts often go unrecognized. Editors and staff of Earth, Planets and Space would like to publicly acknowledge our peer reviewers.

EPS Young Researcher Award 2018
C. H. Chen wins the award as the first author of the following paper.
Medium-scale traveling ionospheric disturbances by three-dimensional ionospheric GPS tomography
C. H. Chen, A. Saito, C. H. Lin, M. Yamamoto, S. Suzuki and G. K. Seemala


EPS Excellent Paper Award 2018

The following paper wins the award.
Preparatory and precursory processes leading up to the 2014 phreatic eruption of Mount Ontake, Japan
A. Kato, T. Terakawa, Y. Yamanaka, Y. Maeda, S. Horikawa, K. Matsuhiro and T. Okuda

Special Issues accepting submissions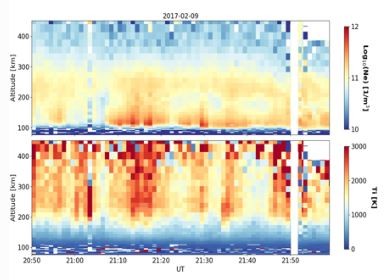 Particle precipitation represents an important source of irregular plasma density structures in the high-latitude ionosphere. Sato et al. (2018) used Synthetic Aperture Radar to image the small-scale plasma density irregularities under high levels of ionization of up to approximately 300 km over Tromsø, Norway. The irregular electron density is characterized by tens of kilometers of band-like structures aligned in the east–west direction with small patch-like structures. This study presents the first coordinated observations of high-latitude ionosphere features by using SAR satellites and incoherent scatter radar.
Proposals for Special Issues
Earth, Planets and Space welcomes proposals for new special issues on focused topics within the scope of the journal. Click here for more information on how to submit a proposal.
Follow
ISSN: 1880-5981 (electronic)
Information
EPS recognizes awards for excellent papers, authors and reviewers:

Most cited papers: