Frontier letter

Open Access
Two times lowering of lake water at around 48 and 38 ka, caused by possible earthquakes, recorded in the Paleo-Kathmandu lake, central Nepal Himalaya
Earth, Planets and Space
2016
68:31
Received: 30 October 2015
Accepted: 12 February 2016
Published: 27 February 2016
The Erratum to this article has been published in Earth, Planets and Space 2016 68:122
Abstract
Sedimentary facies and micro-fossil analyses, and AMS14C dating were performed in order to reveal the water-level fall events and draining process of the lake (Paleo-Kathmandu Lake) that existed in the past in the Central Nepal Himalaya. The sedimentary facies change from the lacustrine Kalimati Formation to the deltaic Sunakothi Formation in the southern and central Kathmandu basin, and the abrupt and prominent increase of phytoliths Bambusoideae and Pediastrum, and contemporaneous decrease of sponge spicule and charcoal grains around 48 and 38 ka support the lowering of water level at these times. According to the pollen analysis, both events occurred under rather warm and wet climate, thus supporting that they were triggered by tectonic cause and not by climate change. The first event might be linked to a possible occurrence of a large earthquake with an epicenter in the vicinity of the Paleo-Kathmandu Lake. The occurrence of a mega landslide in Langtang area close to the north of the Kathmandu Valley producing pseudotachylite dated at 51 ± 13 ka could be linked to this earthquake. Finally, the water was completely drained out from the remnant lake at the central part of the Kathmandu basin by ca.12 ka.
Keywords
Central NepalPaleo-Kathmandu lakeLacustrine sedimentsDeltaic sedimentsDraining of lake waterAMS14C age
Background
Basin-fill sediments of intermontane basins are good archives of past climate changes, tectonics, and depositional environments within the valleys and surrounding mountains. The basin-fill sediments of the Kathmandu Valley in Central Nepal Himalaya (Fig.
1
) are excellent archives of changes in monsoonal climate, terrestrial depositional environments, and tectonics of the Himalaya (Sakai
2001a
). From a view point of the past earthquake in Central Nepal, the basin-fill sediments of the Kathmandu Valley is a valuable archive which recorded crustal deformation and fault rupture caused by large earthquakes such as the Gorkha earthquake in 2015 (Kobayashi et al.
2015
).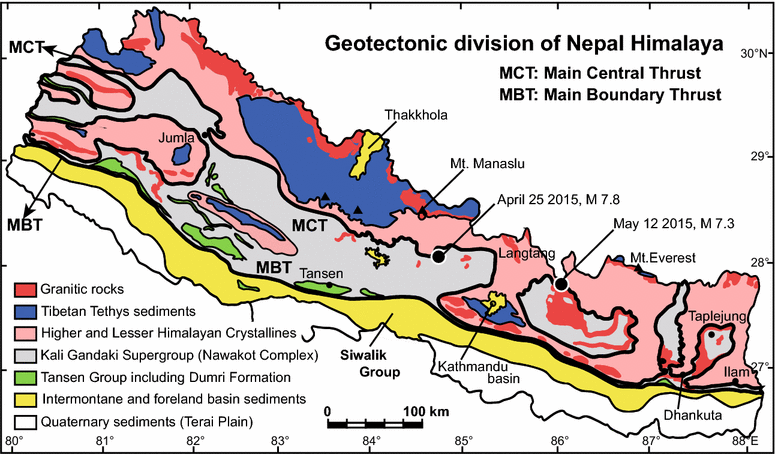 In order to reconstruct geologic history of the Kathmandu Valley, we undertook core drilling of the sediments under the name of Paleo-Kathmandu Lake project, and have conducted multi-proxy analyses of the cores. As a result, changes of various kind of proxy during the last 600 kyr were reconstructed: history of vegetation and monsoon climate (Fujii et al. 2004a; Maki et al. 2004), ecological changes of diatom (Hayashi et al. 2009), and changes in TOC, C/N, δ13C of organic matter (Mampuku et al. 2008). Mineralogical study of lacustrine clay during the last glacial period revealed that amount of clay fraction, clay mineral assemblage, and crystallinity were strongly controlled by paleoclimate (Kuwahara et al. 2010). Stratigraphic and sedimentological study of the basin-fill sediments revealed that the lake was born at around 1 Ma by damming of the Paleo-Bagmati river, and lake water started expanding, following the growth of the dam through supply of fanglomerate from the uplifting of the Mahabharat range to the south ( 2006).
However, when and why did the Paleo-Kathmandu Lake water started draining and when the lake was finally completely drained out was unknown. Then, we carried out geological field survey in the southern Kathmandu basin, and performed AMS 14C dating of carbonaceous sediments. The results of these survey revealed that there were two events of lowering of lake water at around 48 and 38 ka, and final disappearance of the lake occurred at 12 ka. In this paper, we report our new data and discuss on the process and possible cause of draining of the lake.
Methods
We performed micro-fossil analysis by means of microscopic observation of smear slide of clayey sediments, taken from three drilled cores of the Kalimati Formation at Rabibawan (R), Tri-Chandra campus (T), and Pulchok (D) at 1 m interval (Fig.
2
). Number of sponge spicules, phytoliths, pollen including spore, plant fragments, excepting diatom, were counted until a total of 200 pieces were reached under a magnification of 400, using Nikon ECLIPSE 50i POL, and each ratio was calculated.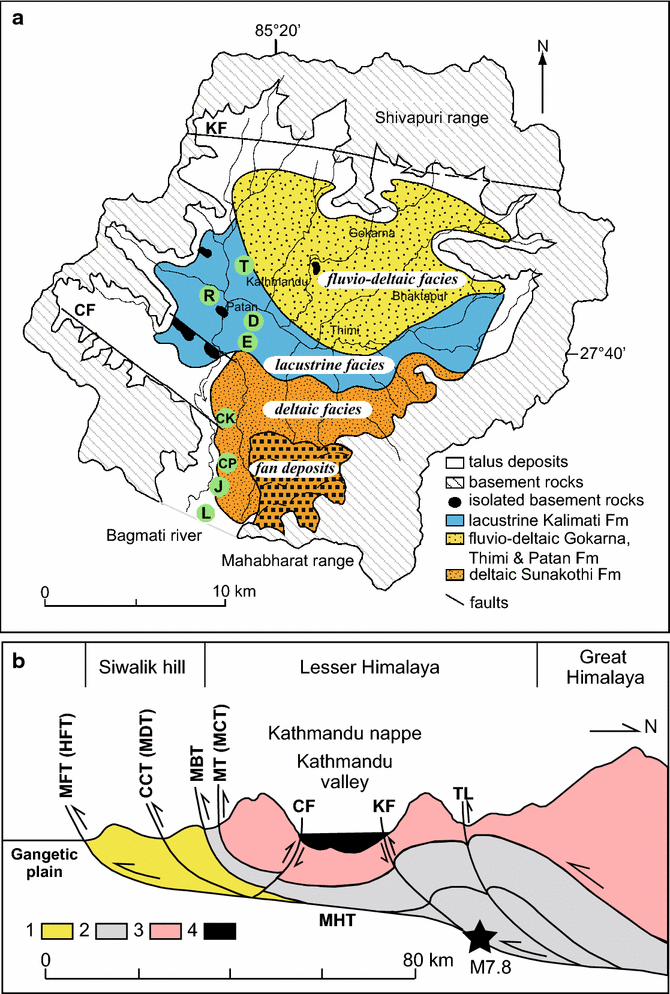 In order to determine depositional age, 5–15 g homogeneous clay with very fine grained carbonaceous fragments were collected from the cores (Fig.
3
) and exposures. Accelerator mass spectrometer (AMS) radio carbon ages were measured by Paleolabo Co. Ltd., Japan, and the obtained Libby ages were calibrated to calendar year using a calibration program of CALIB 7 (Stuiver et al.
2013
).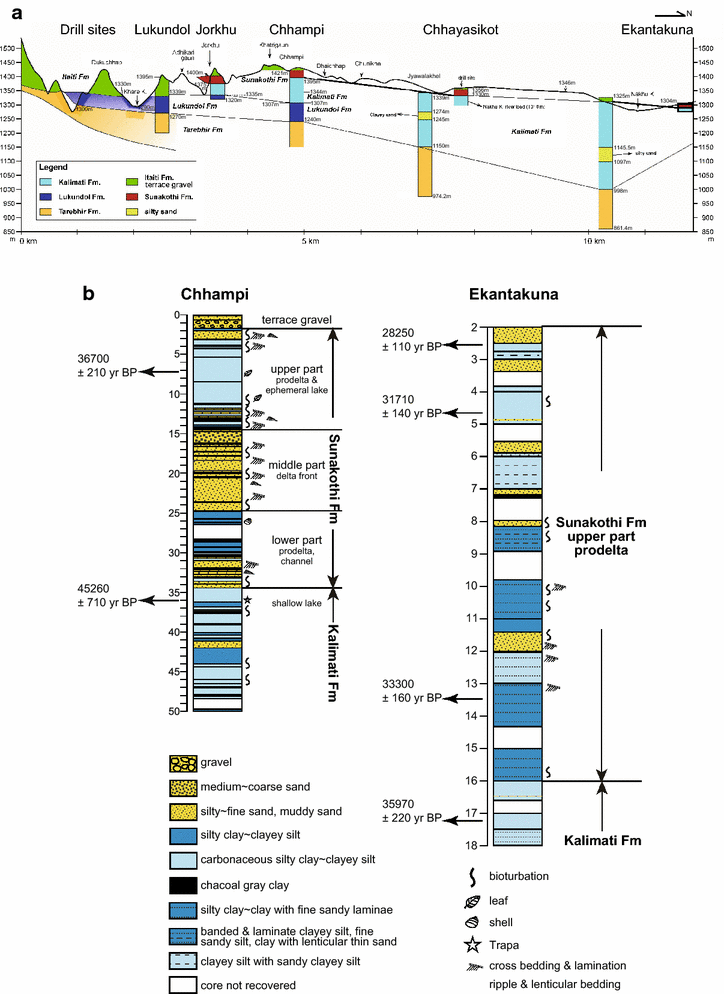 Conclusions
Lowering of lake-water events recorded in the Late Pleistocene lacustrine sediments of the Paleo-Kathmandu Lake were studied by means of micro-fossil and sedimentary facies analyses of five drilled cores dated by AMS 14C method. In the southern area of the Kathmandu Valley, sedimentary facies changes from the lacustrine Kalimati Formation to prodelta and delta front sequence of the Sunakothi Formation occurred ca. 48 ka. During the same time in the central part of the basin, Pediastrum and Phytoliths of Bambusoideae, which are inhabitants of swampy environments, abruptly increased their number, and sponge spicule and charcoal grains abruptly decreased their number. This phenomenon is commonly detected in three cores, and interpreted to indicate an abrupt and rapid lowering of lake-water level caused by a tectonic event, because the climate of this period was estimated to be rather warm and wet, and lake-water level must have risen. A possible tectonic cause can be ascribed to an earthquake occurred in Langtang area to the north of Kathmandu, which generated pseudotachylite at around 51 ± 13 ka.
The similar abrupt and rapid lowering of lake-water level was commonly detected from three drilled cores in the central part of the basin at around 38 ka. At this time, sedimentary facies changed from lacustrine to prodeltaic, near the center of the basin. This phenomenon is also likely to have been triggered by a probable earthquake, because the paleoclimatic record suggests rising of lake-water level.
Declarations
Authors' contributions
HS is a leader of the Paleo-Kathmandu Lake project and core-drilling program, and designed and supervised the whole project. RF is a sub-leader of this project and she was in charge of pollen and other micro-fossil analyses. MS and RS analyzed micro-fossils and charcoal grains and interpreted the data. MP did field survey and collected samples for 14C dating. All authors read and approved the final manuscript.
Acknowledgements
This study was financially supported by Grant-In-Aid for scientific research from JSPS (B) No. 23340156 led by H. Sakai and (B) No.17700642 led by R. Fujii. Core-drilling work was contracted to Nissaku Nepal Co. Ltd. At Kathmandu. I acknowledge B.N. Upreti and S.D. Shrestha of the Department of Geology, Tribhuvan University for their kind help and useful discussion in the course of study. Constructive comments and useful suggestions by B.N. Upreti improved the early version of the manuscript. We extend our gratitude to anonymous reviewers who gave useful comments and suggestions.
Open AccessThis article is distributed under the terms of the Creative Commons Attribution 4.0 International License (http://creativecommons.org/licenses/by/4.0/), which permits unrestricted use, distribution, and reproduction in any medium, provided you give appropriate credit to the original author(s) and the source, provide a link to the Creative Commons license, and indicate if changes were made.
Authors' Affiliations
(1)
Department of Geology and Mineralogy, Kyoto University, Kyoto, Japan
(2)
Department of Geology, Tri-Chandra Campus, Tribhuvan University, Ghantaghar, Kathmandu, Nepal