Difference of horizontal-to-vertical spectral ratios of observed earthquakes and microtremors and its application to S-wave velocity inversion based on the diffuse field concept
Earth, Planets and Space
2018
70:1
Received: 28 February 2017
Accepted: 19 December 2017
Published: 2 January 2018
Abstract
We have been discussing the validity of using the horizontal-to-vertical spectral ratios (HVRs) as a substitute for S-wave amplifications after Nakamura first proposed the idea in 1989. So far a formula for HVRs had not been derived that fully utilized their physical characteristics until a recent proposal based on the diffuse field concept. There is another source of confusion that comes from the mixed use of HVRs from earthquake and microtremors, although their wave fields are hardly the same. In this study, we compared HVRs from observed microtremors (MHVR) and those from observed earthquake motions (EHVR) at one hundred K-NET and KiK-net stations. We found that MHVR and EHVR share similarities, especially until their first peak frequency, but have significant differences in the higher frequency range. This is because microtremors mainly consist of surface waves so that peaks associated with higher modes would not be prominent, while seismic motions mainly consist of upwardly propagating plain body waves so that higher mode resonances can be seen in high frequency. We defined here the spectral amplitude ratio between them as EMR and calculated their average. We categorize all the sites into five bins by their fundamental peak frequencies in MHVR. Once we obtained EMRs for five categories, we back-calculated EHVRs from MHVRs, which we call pseudo-EHVRs (pEHVR). We found that pEHVR is much closer to EHVR than MHVR. Then we use our inversion code to invert the one-dimensional S-wave velocity structures from EHVRs based on the diffuse field concept. We also applied the same code to pEHVRs and MHVRs for comparison. We found that pEHVRs yield velocity structures much closer to those by EHVRs than those by MHVRs. This is natural since what we have done up to here is circular except for the average operation in EMRs. Finally, we showed independent examples of data not used in the EMR calculation, where better ground structures were successfully identified from pEHVRs again. Thus we proposed here a simple empirical method to estimate S-wave velocity structures using single-station microtremor records, which is the most cost-effective method to characterize the site effects.

Keywords
Site effect
Subsurface structure
Seismological bedrock
Horizontal-to-vertical ratio
Hybrid heuristic search
S-wave
P-wave
Introduction
It is essential to evaluate the subsurface structure properly and validate previously proposed structures based on geological data and boring explorations with the observed seismic and non-seismic data for the quantitative prediction of ground motions in urban areas. There are plenty of methods to evaluate subsurface structures that may reproduce observed site characteristics of observed ground motions. However, there are not so many methods that can reliably determine S-wave velocity structures down to the seismological bedrock, where the S-wave velocity reaches 3.0 km/s or higher. Array measurements of microtremors to obtain phase velocities of propagating surface waves (e.g., Horike 1985; Okada 2003) have been successfully utilized to invert S-wave velocity structures down to the seismological bedrock for more than three decades. Several applications of the method at different sites (e.g., Picozzi et al. 2009; Prieto et al. 2009; Stephenson et al. 2009) show the robustness of the method under various environments. Recent advances by Cho et al. (2006) and Tada et al. (2007) as a natural extension of the pioneering work of the so-called SPAC method by Aki (1957) provide us quite a strong tool for dispersion analysis. The downside of these array methods is that we need to deploy as many stations as possible for the precise determination of phase velocity at one frequency band and the array size must be increased in proportion to the targeted depth. As the array size is increased, the fundamental assumption of horizontally homogeneous layering would be difficult to expect. Also these array methods need very low-noise sensors with high coherence, especially in the long period range.
The spectral ratio approach with a reference site for seismic motions, either on the surface or inside the borehole, can be quite effective for obtaining a reliable S-wave velocity structure when combined with a standard inversion technique such as genetic algorithm or simulated annealing. However, the spectral ratio approach with respect to the rock outcrop reference site, sometimes called the standard spectral ratio (SSR) method, will fail to provide reasonable site amplification either when the reference site is not sufficiently close to the target site or when the reference site is not close the seismological bedrock in terms of its S-wave velocity. The so-called generalized spectral inversion method (Andrews 1986) will provide better site amplification characteristics if we find a good reference site among stations used because the generalized inversion makes use of all the data at once with proper attenuation correction and so the distance between the reference site and the target site is not an issue. Also once the inversion analysis is done, we can select the best site for reference, that is, the smallest amplification site with flat frequency dependence. In Kawase and Matsuo (2004) and following Nakano et al. (2015), the site amplification factors for K-NET, KiK-net, and the JMA Shindokei network relative to the seismological bedrock outcrop at the reference site (YMGH01) were obtained and then used to invert S-wave velocity structures at these sites.
As for the surface-to-borehole spectral ratio method, there is no problem for distance since the horizontal location of two sensors should be close together in a horizontal space. However, it is also quite a common situation to have a reference site not close to the seismological bedrock depth, especially for deep sedimentary basin sites. Even if the borehole station were well within a seismological bedrock formation, the surface-to-borehole spectral ratio is contaminated by the reflected phase at the free surface (e.g., Steidl et al. 1996; Satoh et al. 1997), which sometimes makes frequencies and amplitudes of peaks unstable for different clusters of sources.
Recently, using the cross-correlation of two stations the so-called Green's function retrieval method based on the diffuse field concept (DFC) is commonly applied to both seismic data and long-duration of microtremor data (e.g., Campillo and Paul 2003). The dispersion characteristics of the obtained Green's functions can be used to determine the averaged S-wave velocity structure between two stations. This is quite a powerful method to determine a velocity structure averaged over the whole path between two stations; however, it does not provide a velocity structure immediately below the observed site. Besides, it may need to measure microtremors for sufficiently long duration (from several weeks to months) to get stable results.
After successful application of the cross-correlation analysis of earthquake and microtremor data, it is natural to make two stations coincide with each other, that is, to utilize the auto-correlation of a single-station measurement. In the auto-correlation approach, we can determine the velocity structure immediately below the observed site because of the direct correspondence of the imaginary part of the Green's function to the spectral energy density (Sánchez-Sesma et al. 2011). As a pioneering work, Margerin et al. (2009) showed that after sufficient lapse time from the onset of the S-wave the late coda can be considered to be in the diffuse field regime. Then, Kawase et al. (2011) extended the idea of DFC to the stack of horizontal-to-vertical ratios of earthquakes (EHVR) and provided a simple theoretical formula assuming equipartition of energy in the incident waves at the bedrock (i.e., equipartition inside the half-space). It turned out that this is a powerful tool to determine the S-wave velocity structure below the observed site of earthquakes down to the seismological bedrock, as evidenced by Ducellier et al. (2013), Nagashima et al. (2014, 2017) and Fukihara et al. (2015).
Well before the advent of the application of DFC to EHVRs as mentioned above, Sánchez-Sesma et al. (2011) applied the concept to the horizontal-to-vertical ratios of microtremors (MHVR) to derive a formula with horizontal and vertical Green's functions of a point force on the surface. This theoretical formula provides the final solution for the long-lasting debate on the interpretation of MHVR (e.g., Bard 1999; Bonnefoy-Claudet et al. 2004) that began from the initial proposal by Nakamura (1989). The DFC theory for MHVR can be used for the velocity structure inversion. The validation studies of this DFC interpretation of MHVR can be found in Salinas et al. (2014), Kawase et al. (2015), and Lontsi et al. (2015). Recently García-Jerez et al. (2016) show a new calculation scheme using residue integrals, which is much more efficient in computing Green's functions and so they used it for velocity inversion.
Even though the calculation method for MHVR implemented by García-Jerez et al. (2016) is more efficient than the ordinary wavenumber integration scheme, still it is quite time-consuming because of the inevitable summation to account for multiple contributions of poles in the wavenumber domain. On the other hand, the theory for EHVR is easy to calculate because we need to consider body wave contributions only in one wavenumber. Therefore, the inversion for EHVR is much more efficient than that for MHVR. However, in terms of field measurement effort, a temporal single-station deployment of microtremor measurements for MHVR is much easier and less costly than a long-lasting deployment of seismic motions for EHVR.
That is why we have proposed here a new method in which empirical translation from MHVR to EHVR is performed based on the observed spectral ratio between EHVR and MHVR at the same site, which is called EMR. EMRs are calculated as the averaged values from observed data for different categories classified based on their peak MHVR frequencies. The resultant HVRs, called pseudo-EHVRs or pEHVR here, show quite similar characteristics to the observed EHVRs and so the inverted structures from pEHVRs are also quite similar to those from the observed EHVRs.
Results
EHVR and MHVR
Figure
8
shows comparisons of EHVRs and MHVR at six sites in Ehime Prefecture as an example. As pointed out before, EHVRs of the S-wave part and those of the coda part match with each other at most of the sites. The EHVR amplitude of the coda part tends to be a little smaller than that of the S-wave part, which is also pointed out in Satoh et al. (
2001
). This could be the effect of further energy scattering with time.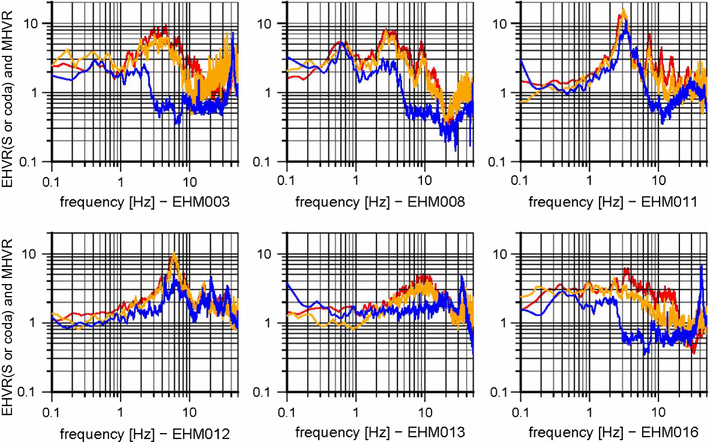 Comparison of EHVRs of the S-wave parts and MHVRs between 0.2 and 20.0 Hz shows that at most of the sites these two ratios are very close to each other, especially the amplitude and the frequency of the first peak, as seen in EHM08, EHM011, and EHM012 in Fig. 8. On the other hand, there are several sites where the HVR peak frequency is close, but the amplitude is different or both are different, for instance EHM013 and EHM016. The notable difference is, however, that the EHVR amplitude after the first peak is much larger than that of the MHVR in general and sometimes it shows several clear peaks after the first one while the MHVR has smoothly varying characteristics in higher frequencies, as seen in EHM011. This kind of difference is exactly what we should expect due to the different nature of the wave field for microtremors and earthquakes.
Empirical EMR
We should note that the trend below 1 is somewhat different from category to category because we may have a secondary peak or peaks below 1 if we choose the fundamental peak frequency in the high frequency range (as Category 4 and 5), while we may hardly have a secondary peak or peaks below 1 if we choose the fundamental peak frequency in the lower frequency range (as Category 1 and 2). For Category 4 and 5, a high frequency peak has the highest amplitude but we may also have smaller peaks in the lower frequency range where we would have difference in EMR with smaller degree as shown in Fig. 12.
Validity of pEHVR
Once we obtain the average empirical EMR, we can translate MHVRs into pseudo-EHVRs, or simply pEHVR. To see the validity of the EMR correction, we plot comparisons of EHVR, MHVR, and pEHVR in Fig.
13
for three representative sites in Category 1 (0.2–1 Hz peak) and Fig.
14
for three sites in Category 3 (2–5 Hz peak). As we can see in these figures, correction by EMR to MHVR is quite effective for reproducing EHVRs for most of the sites. When we compare correlations between MHVR and EHVR and between pEHVR and EHVR, significant improvement in the latter can be seen, especially for sites with high peak amplitude. Thus, EMR correction is meaningful to make MHVR closer to EHVR.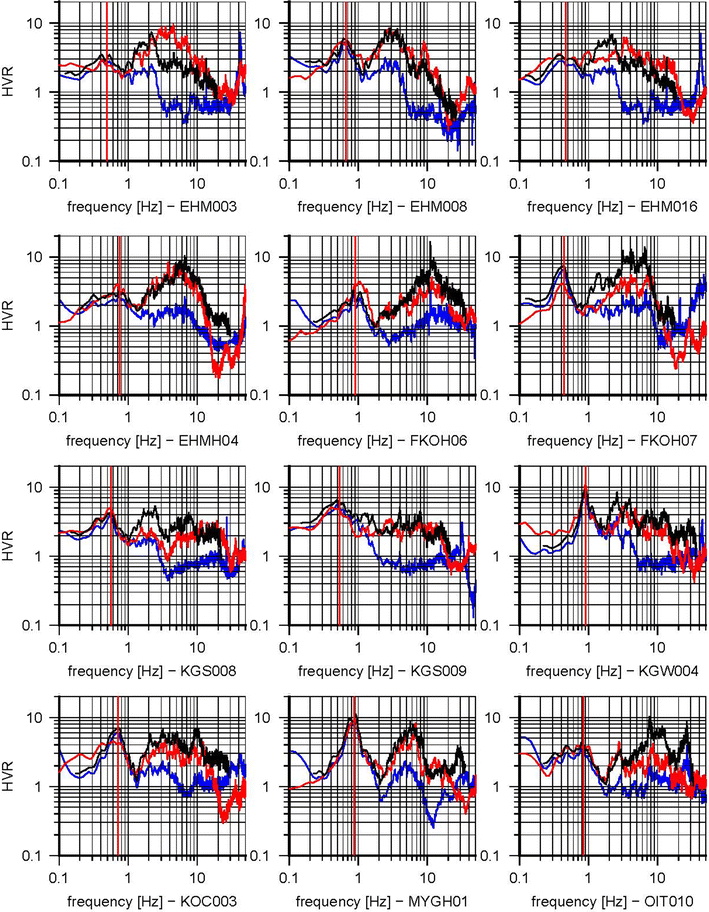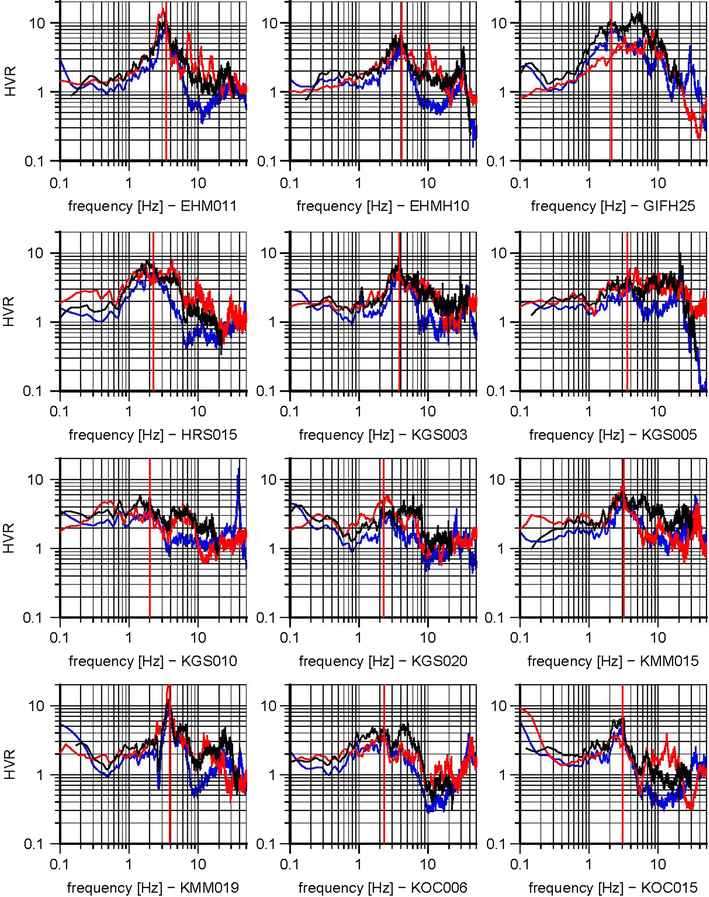 Inversions for MHVR and pEHVR
Conclusions
In this study, we calculated the horizontal-to-vertical spectral ratios (HVR) from observed microtremors (MHVR) as well as those of observed weak earthquake ground motions (EHVR) and compared predominant peak frequencies and amplitudes at these peak frequencies of the MHVRs and EHVRs with those calculated theoretically from S-wave velocity models based on the diffuse wave concept. When we compare MHVRs and EHVRs, we found that they share similarities but have significant differences in their shapes, especially after the fundamental peak frequency in MHVRs. This is because MHVR mainly consists of surface waves so that peaks associated with higher modes would not be as prominent as that of EHVR. We first searched for better 1-D structures at each observed site by using the proposed HHS method of Nagashima et al. (2014, 2017) for observed EHVRs based on the theory from the diffuse field concept. As a result, we successfully identified a better ground structure for each observation site from the seismological bedrock to the surface.
After looking at the systematic differences in MHVRs and EHVRs, we tried to establish a new, simple method to estimate velocity structures using single-station microtremor records since it is the most cost-effective, noninvasive method to characterize site effects. To that end, we calculated EHVR-to-MHVR ratios (EMRs) at 100 K-NET and KiK-net sites in Japan to find that there are systematic difference in the observed EMRs. Using EMRs averaged over five different categories based on the fundamental peak frequency (f_peak) ranges of MHVRs as a function of the normalized frequency f/f_peak, we converted MHVRs to pseudo-EHVRs by multiplying MHVRs with the average EMRs, which are found to have higher correlation with real EHVRs than MHVRs. Using these pseudo-EHVRs, we can identify velocity structures from the seismological bedrock to the surface, with much better correspondence to the true structures than the direct use of MHVRs as substitutes. Independent evidence for the effectiveness of the pseudo-EHVR approach is presented for sites in Sendai, Japan.
We should note that high-frequency EHVRs are not only controlled by the velocity structure shallower than the engineering bedrock but also by the deep basin structure because of higher mode contributions. This is a strong opposition to the idea that site effects can be modeled only by the shallower structure below a site (say, down to 30 m), if our primary concern is focused only onto the high frequency content.
What is remaining to investigate is the way to determine numbers of unknown parameters and their range of search under various practical situations where no or not plenty of a priori information exist. We also need to explore the possibility of simultaneous inversion for earthquake and microtremors data, velocity logging and microtremor data, or data on the surface and in the boreholes. For more accurate prediction of EHVR from MHVR, we need to collect further numbers of data for both MHVR and EHVR under variety of tectonic and geological conditions to propose more effective ways of categorization in EMR.
Abbreviations
DFC:

diffuse field concept
EHVR:

earthquake horizontal-to-vertical spectral ratio
EMR:

earthquake-to-microtremor ratio of horizontal-to-vertical spectral ratio
EW:

east–west
HVR:

horizontal-to-vertical spectral ratio
JMA:

Japan Meteorological Agency
K-NET:

Kyoshin network
KiK-net:

Kiban Kyoshin network
MHVR:

microtremor horizontal-to-vertical spectral ratio
NIED:

National Institute for Earth Science and Disaster Resilience
NS:

north–south
pEHVR:

pseudo-EHVR, reproduced from EMR and MHVR
RMS:

root-mean-square
UD:

up–down
Declarations
Authors' contributions
Field investigations were performed by HK, FN, and YM. Microtremor analysis was performed by YM and HK. YM wrote Japanese version of the initial draft through discussion with HK and FN. FN developed and provided the inversion code for EHVR. All authors contributed to editing and revising the manuscript. All authors read and approved the final manuscript.
Acknowledgements
This study is owing to various works performed under collaboration with Shinichi Matsushima at DPRI, Kyoto University, and Francisco J. Sánchez-Sesma at IdeI, UNAM and his associates. Microtremor observations at K-NET and KiK-net stations were done by students of Kawase and Matsushima laboratory from 2000 to 2016. A part of the study was supported by the JSPS Kakenhi Grant-in-Aid for Basic Research (A) No. 26242034. The open usage of K-NET and KiK-net earthquake data collected and distributed by NIED is highly appreciated. The final revision was made during the first author's stay at ISTerre, University of Grenoble Alpes on leave from DPRI, Kyoto University.
Competing interests
The authors declare that they have no competing interests.
Ethics approval and consent to participate
The authors declare that this study does not involve human subjects, human material and human data.
Publisher's Note
Springer Nature remains neutral with regard to jurisdictional claims in published maps and institutional affiliations.
Open AccessThis article is distributed under the terms of the Creative Commons Attribution 4.0 International License (http://creativecommons.org/licenses/by/4.0/), which permits unrestricted use, distribution, and reproduction in any medium, provided you give appropriate credit to the original author(s) and the source, provide a link to the Creative Commons license, and indicate if changes were made.
Authors' Affiliations
(1)
DPRI, Kyoto University, Gokasho, Uji, Japan
(2)
J-Power, Chuo-ku, Tokyo, Japan