Correction to: Pseudo-thermal anomalies in the shortwave infrared bands of the Himawari-8 AHI and their correction for volcano thermal observation
Earth, Planets and Space
2018
70:187
Received: 13 November 2018
Accepted: 13 November 2018
Published: 29 November 2018
After publication of this article (Kaneko et al.
2018
), it is noticed there is an error in Fig. 3b; the lower 2.3-µm band image is mistakenly removed. The correct Fig. 3 is given below: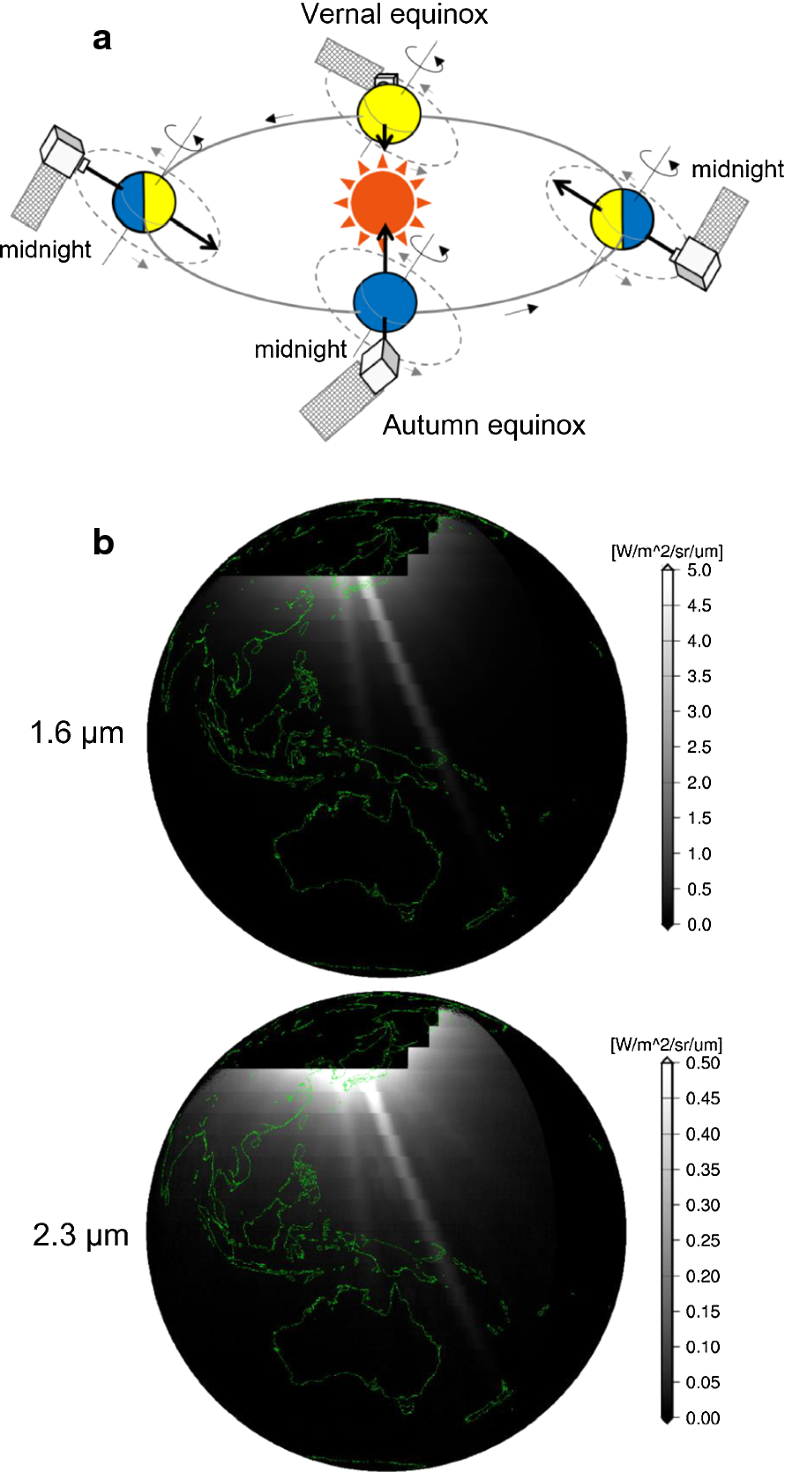 The original article has herewith been corrected.
Publisher's Note
Springer Nature remains neutral with regard to jurisdictional claims in published maps and institutional affiliations.
Open AccessThis article is distributed under the terms of the Creative Commons Attribution 4.0 International License (http://creativecommons.org/licenses/by/4.0/), which permits unrestricted use, distribution, and reproduction in any medium, provided you give appropriate credit to the original author(s) and the source, provide a link to the Creative Commons license, and indicate if changes were made.
(1)
Earthquake Research Institute, The University of Tokyo, 1-1-1 Yayoi, Bunkyo-ku, Tokyo 113-0032, Japan
(2)
Meteorological Satellite Center, Japan Meteorological Agency, 3-235 Nakakiyoto, Kiyose, Tokyo 204-0012, Japan
(3)
Japan Fisheries Research and Education Agency, 2-12-4 Fukuura, Kanazawa, Yokohama Kanagawa, 236-8648, Japan
(4)
Center for Environmental Remote Sensing, Chiba University, 1-33 Yayoi-cho, Inage-ku, Chiba-shi Chiba, 263-8522, Japan