Gravity variation around Shinmoe-dake volcano from February 2011 through March 2012—Results of continuous absolute gravity observation and repeated hybrid gravity measurements
Earth, Planets and Space
2013
65:8
Received: 27 October 2012
Accepted: 22 March 2013
Published: 8 July 2013
Abstract
We report here on continuous absolute gravity measurements made between February 2011 and March 2012 and repeated relative gravity measurements in the vicinity of Shinmoe-dake volcano, which commenced erupting in late January 2011. We find that 20 of 24 eruptive events are associated with precursory short-term gravity decreases occurring over 5–6 hours followed by quick recoveries lasting 1–2 hours. Also evident are significant long-term gravity changes arising principally from hydrological processes around the volcano, where annual precipitation exceeds 5,000 mm. To isolate the gravity signal associated with volcanic processes, we compared gravity measurements made at 15 sites in March 2011 and again in March 2012. The gravity changes and crustal deformation observed during the one year period are well explained by 6×106 m3 inflation of a magma reservoir at a depth of 9 km and intrusion at shallower depths of a dike with dimensions of 10 km × 0.5 km × 0.5 m.
Key words
Absolute gravityprecursory gravity signalmagma transportShinmoe-dake volcano
1. Introduction
Eruptions of Mt. Shinmoe-dake, a member of the Kirishima volcano group, are documented to have occurred in 1716–1717, 1771, 1822, 1959, 1991, 2008, and 2010 before the most recent magmatic eruptions in January 2011. Subplinian eruptions on January 26 and 27, 2011 were followed by formation of a lava dome and frequent vulcanian eruptions in February 2011 (Nakada et al., 2013; Suzuki et al., 2013a, b). Although crustal deformation data revealed deflation of a magma source in the early stage of the eruption, subsequent observations until November 2011 suggested that magma accumulation was continuing (Nakao et al., 2011; Geospatial Information Authority of Japan et al., 2012).
We carried out two types of gravity observations from early February 2011 to investigate mass transport processes related to the volcanic activity. They are continuous absolute gravity measurements at a fixed station and repeated gravity observations at sites around the Kirishima volcanoes. These two types of measurement are complementary in the sense that the former has higher temporal resolution and poorer spatial resolution than the latter, and vice versa. This study presents the results of integrating the two types of observations to describe the overall picture of mass movement beneath the Kirishima volcanoes.
2. Absolute Gravity Measurement
3. Repeated Hybrid Gravity Measurement
3.1 Instrument and setting
Precise relative gravity measurements were made at 15 points around Shinmoe-dake volcano in March and August 2011 and in March 2012 using four LaCoste & Romberg gravimeters (Fig. 1(b)). From now on, we restrict our attention to the one-year period between March 2011 and March 2012; the data in August 2011 indicates significant groundwater disturbance to the observed gravity (Ueki et al., 2011) as discussed in Subsection 2.4.
3.2 Spatial gravity changes in the year following the 2011 eruption
The gravity measurements are tied to the absolute gravity data at KVO so that we may determine absolute gravity value at each points. Figure 6(a) shows the gravity change Ag in the year following the 2011 eruption.
4. Modeling the Volcanic Activity
Horizontal and vertical displacements from February 2011 to February 2012 were reported and analyzed by the
Geospatial Information Authority of Japan et al. (2012)
. They proposed a source model composed of a point inflation/deflation source (the Mogi source) and a rectangular tensile dislocation, representing a deeper magma reservoir and a shallower dike as suggested from the horizontal displacement. This model is consistent with our conceptual model used for interpreting the short-term absolute gravity change in the sense that the shallower dike does work as the valve illustrated in
Fig. 4
. We thus assume the same configuration for the source model (
Fig. 7
) and estimate its parameters by performing a simultaneous inversion of our gravity data (
Fig. 6(a)
) and the observed displacements. Specifically, we minimize the norm
g
j
represents the gravity change at the
j
-th point and (
u
i
,
v
i
,
w
i
) eastward, northward and upward displacement components at the
i
-th point, respectively. The superscripts
o
and
c
stand for observed and calculated values. The denominators

,
σ
u
,
σ
v
and
σ
w
in
Eq. (11)
are observational errors for the gravity and displacement data. We adopt

and 25
μ
gal for the absolute and relative gravity measurements, respectively. The larger error for the relative gravity arises from unusually strong ground vibrations during our measurements in March 2011 excited by numerous aftershocks of the 2011 Tohoku earthquake. Observational errors of the displacements are taken to be
σ
u
=
σ
v
= 2 mm and
σ
w
= 5 mm.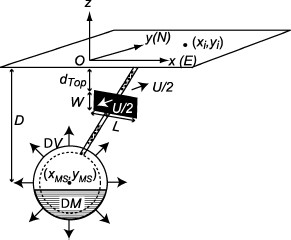 Analytical expressions describing displacements and gravity changes for a homogeneous semi-infinite medium are employed for

and

as
x
i
and
y
i
are Cartesian coordinates of the
i
-th point in the horizontal plane (
Fig. 7
). The terms
u
M
,
v
M
,
w
M
and
g
M
denote contributions from the Mogi source at (
x
ms
,
y
ms
, −
D
) given by
v
,
β
and Δ
V
are Poisson's ratio (= 1/4), the free-air gravity gradient, and the volume change, respectively (
Mogi, 1958
;
Hagiwara, 1977
;
Segall, 2010
). The terms
u
T
,
v
T
,
w
T
and
g
T
in Eqs. (12)–(13) denote contributions from dike intrusion represented by a tensile dislocation
U
on a vertical rectangle (
Fig. 7
). They are given by
Okada (1985)
and
Okubo (1992
,
2005
). The last term in
Eq. (13)
is the Newtonian attraction of mass Δ
M
coming from the deep interior to the magma chamber given by
Eq. (2)
.
The optimum parameters minimizing the norm
L
are listed in
Table 4
and the gravity changes and displacements corresponding to the optimum model are shown in
Figs. 6
and
8
. Although the displacements are fairly well accounted for, the observed and computed gravity changes agree rather poorly, implying that the simple comparison of gravity data sets taken in the same season is still affected by disturbances of non-volcanic origin. For example, the gradual and/or episodic downhill flow of 2 × 10
7
-ton of tephra erupted in January 2011 (
Nakada et al., 2013
) is likely to introduce a gravity increase exceeding 10
μ
gal at points 3 km from the crater of Shinmoe-dake. In addition, year-to-year variations in precipitation at points closer to the volcano summit is expected to be larger than those at the absolute station. These points suggest that the large gravity increases of 30-40
μ
gal in
Fig. 6(a)
are of non-volcanic origin. They preclude us from constraining the mass change in a reasonable way. In fact, we obtained a geophysically unrealistic value of Δ
M
> 10
11
kg when no upper bound is imposed on Δ
M
while the volumetric change should be of 107 m
3
or so.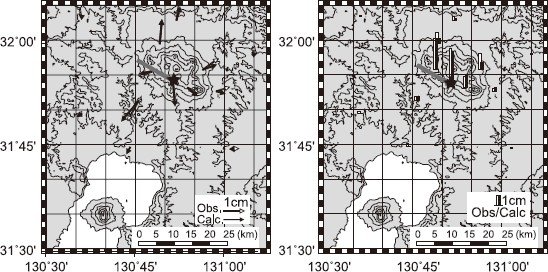 The optimum value of the objective function L defined by Eq. (11) is L =51.1, which is comparable with the value of

expected for a variable drawn from a χz -squared distribution with (n + 3m − p) degrees of freedom (Menke, 1989), where p stands for the number of source parameters (n = 15, m = 13 and p = 11 in our case). The inferred depth to the deep inflation/deflation source is 9 km, a value consistent with Nakao et al. (2011), while the dike intrusion parameters are in reasonable agreement with values obtained by the Geospatial Information Authority of Japan et al. (2012).
A final comment on possible topographic effects on the deformation is appropriate. Segall (2010) showed that when the ratio of the topographic height-to-length scales H/L is less than 0.05, the perturbation to the vertical displacement for a flat earth is less than 15% when an inflation source is buried at a depth 5 km. Since H ≈ 1,000 m (Fig. 1) and L ≈ 20 km (Fig. 8) in our case, we may safely ignore topographic effects.
5. Conclusions and Discussion
We carried out absolute gravity measurements at Kirisima Volcano Observatory over 13 months from February 2011, two weeks after the onset of the 2011 Shinmoe-dake eruption, until March 2012. The data reveal precursory gravity decreases lasting 5–6 hours followed by abrupt gravity increases lasting 1–2 hours during the first 2 months when the Shinmoe-dake volcano was erupting frequently. Most such changes are associated with and preceded eruptions or aborted eruptions inferred from ground tilt changes. Local gravity around Shinmoe-dake volcano exhibited increase of several to several tens μgal during the one-year period following the 2011 Shinmoe-dake eruption. We have derived a physical model that provides a quantitative explanation of the long-term local gravity changes and displacements measured with GPS. This model is consistent with a conceptual model of the volcano's magma plumbing system based on the short-term absolute gravity changes observed prior to vulcanian eruptions.
Declarations
Acknowledgments
We express our sincere thanks to the Japan Meteorological Agency for providing us with ground tilt data at Takachihogawara. Special thanks are given to the Geospatial Information Authority of Japan, the Japan Meteorological Agency and National Research Institute for Earth Science and the Disaster Prevention for allowing us to use the displacement data derived from the GNSS. Drs. J. Oikawa, A. Watanabe and K. Aizawa are acknowledged for their technical support in acquiring the absolute gravity data. The critical comments of anonymous reviewers were helpful in improving this manuscript. This work was supported in part by Grant-in-Aid for Scientific Research (22900001 and 23244092). Some of the figures were prepared using the GMT program (Wessel and Smith, 1998).
Authors' Affiliations
(1)
Earthquake Research Institute, The University of Tokyo, Tokyo, Japan
(2)
Graduate School of Science, Tohoku University, Sendai, Japan
(3)
Graduate School of Science, Hokkaido University, Sapporo, Japan
Copyright
© The Society of Geomagnetism and Earth, Planetary and Space Sciences (SGEPSS); The Seismological Society of Japan; The Volcanological Society of Japan; The Geodetic Society of Japan; The Japanese Society for Planetary Sciences; TERRAPUB. 2013