Technical report
Open Access
Electromagnetic receiver with capacitive electrodes and triaxial induction coil for tunnel exploration
Earth, Planets and Space
2017
69:123
Received: 8 February 2017
Accepted: 21 August 2017
Published: 11 September 2017
Abstract
A new type of electromagnetic (EM) receiver has been developed by integrating four capacitive electrodes and a triaxial induction coil with an advanced data logger for tunnel exploration. The new EM receiver can conduct EM observations in tunnels, which is one of the principal goals of surface-tunnel-borehole EM detection for deep ore deposit mapping. The use of capacitive electrodes enables us to record the electrical field (E-field) signals from hard rock surfaces, which are high-resistance terrains. A compact triaxial induction coil integrates three independent induction coils for narrow-tunnel exploration applications. A low-time-drift-error clock source is developed for tunnel applications where GPS signals are unavailable. The three main components of our tunnel EM receiver are: (1) four capacitive electrodes for measuring the E-field signal without digging in hard rock regions; (2) a triaxial induction coil sensor for audio-frequency magnetotelluric and controlled-source audio-frequency magnetotelluric signal measurements; and (3) a data logger that allows us to record five-component MT signals with low noise levels, low time-drift-error for the clock source, and high dynamic range. The proposed tunnel EM receiver was successfully deployed in a mine that exhibited with typical noise characteristics.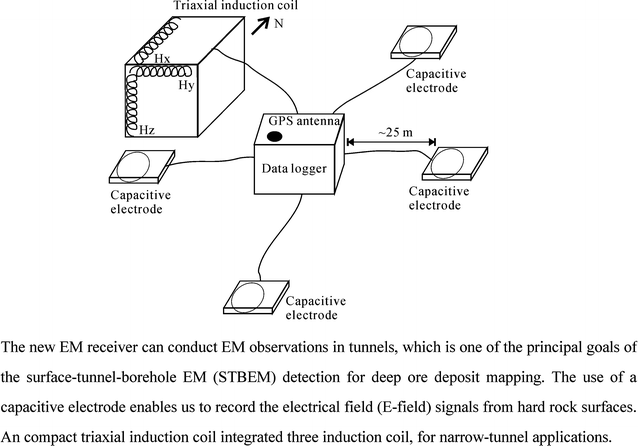 Keywords
Tunnel EM prospectingCapacitive electrodeTriaxial induction coilLow time-drift-error clock sourceEM data logger
Introduction
Electromagnetic (EM) sounding methods were originally developed for imaging metal ores, underground water, active faults, etc. (Kanda and Ogawa 2014). EM geophysical methods require accurate and reliable measurement of the electric field (E-field) and magnetic field (B-field) in order to characterize the subsurface, from the near surface down to a depth of several kilometers. EM sounding methods are ideal for mineral exploration applications and can potentially map the size, depth, strike, and dip of conductors. While surface EM sounding is useful for the exploration of deep electrical anomalies, the effective prospecting depth is limited by weak surface anomalies. If application of a controlled source to the surface and borehole and receive a controlled-source EM signal from the surface, tunnel, and borehole, the effective anomalies may be high. Surface-tunnel-borehole electromagnetic (STBEM) surveys in reconnaissance drill holes increase the effective penetration depth; provide the direction and distance to a nearby missed conductor, including the distances to the edges and centers of deposits around boreholes; and improve surface EM interpretation in a prospect area. Downhole EM surveys of deep drill holes can yield precise information about the position and conductivity of nickel sulfide. Crone Geophysics offers a full suite of EM sensors for both borehole and surface surveys, which are very useful in mine development and production applications, specifically for defining the boundaries and sizes of conductive ore zones (Crone Geophysics 2017). The SMARTem Electrical Methods Geophysical Receiver System has evolved as a flexible new tool for time-domain EM (TEM) sounding, induced polarization (IP) sounding, and other electrical geophysical survey methods (Stolz 2000). SMARTem has been used in fixed-loop, moving-loop, borehole (axial and three-component), and underground surveys, in both direct-trigger and crystal-synchronized modes.
For deep metal mineral exploration, we developed an STBEM system. Figure
1
presents the experimental layout of our STBEM survey, which uses many surface EM transmitters in different directions as well as borehole EM transmitters. Many surface EM receivers, tunnel EM receivers, and borehole EM receivers are deployed in an array. All recording units are permanently synchronized to the global positioning system (GPS) time. They are optimized to operate with transmitters similarly synchronized to GPS time and are clocked using inbuilt clock source modules. Depending on the instrument, we can conduct surveys in the tunnel using conventional methods such as audio-frequency magnetotellurics (AMT), controlled-source AMT (CSAMT), or spectral IP (SIP).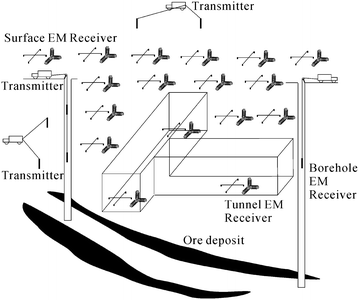 Existing surface EM receivers, such as ADU from Metronix (Metronix 2017), GDP 32 from Zonge (Zonge 2017), and V8 from Phoenix Geophysics (Phoenix Geophysics 2017b), demonstrate multiple functions, multiple channels, broad bandwidths, and low clock errors using induction coils or fluxgate sensors and non-polarization electrodes. However, when applied to EM signal recording in tunnels, the conventional surface EM receivers have a few limitations. (1) Because of the highly resistive terrains in the tunnel hard rock surface, non-polarization electrodes have significant measurement and operational limitations. (2) The existing induction coils are too long to fit in the narrow tunnel space. (3) An effective GPS signal may not be available in the tunnel. Therefore, the conventional time-synchronized solution may not meet the ultra-low clock drift error requirements; the time-synchronized error depends on the clock drift of the clock module.
As a suitable EM receiver for tunnel EM survey targets had not yet been developed, we decided to develop a new tunnel EM receiver system with capacitive electrodes, a triaxial induction coil, and a data logger with a low time-drift-error clock source. The key features of the tunnel EM receiver system we developed are (1) capacitive electrodes for highly resistive terrains in the audio-frequency band, (2) a compact triaxial audio-frequency induction coil with low noise levels, and (3) ultra-low clock drift error. Here we present the details of the sensor used in our system, show an outline of the new instruments, and present the preliminary field data.
Instruments
The tunnel EM receiver mainly consists of four capacitive electrodes, a triaxial induction coil, and a data logger. These three parts will be itemized in the following subsections, together with their general features. Table
1
summarizes the specifications of the tunnel EM receiver.
Table 1
Specifications of the electromagnetic (EM) receiver
| | |
| --- | --- |
| Number of channels | 5 (Ex/Ey/Hx/Hy/Hz) for AMT and CSAMT |
| | 3 (E1/E2/E3) for SIP |
| Noise level | E-field: 1 μV/√Hz at 1 Hz |
| | B-field: 1 pT/√Hz at 1 Hz |
| Frequency range | DC–10 kHz |
| Power consumption | 6 W, built-in battery lifetime >24 h |
| Clock drift error | <10 μs/24 h |
| Data storage | 64 GB (upgradeable) |
| Sample rate | 24,000 Hz/2400 Hz/150 Hz |
| User interface | Ethernet 100 Mbps |
| Dynamic range | 117 dB (fs = 2400 Hz) |
Field experiment
The tunnel EM receiver thus developed was tested many times in the field. A sensor comparison test was executed at the surface to confirm the functionality of the capacitive electrodes and the triaxial induction coil.
Summary
Compared to the conventional electrodes, this new capacitive electrode could measure the geo-electric field precisely up to 10 kHz. In contrast with the PbCl2 electrode, the capacitive electrode could measure the geo-electric field in tunnel applications.
The tunnel EM receiver with capacitive electrodes and a triaxial induction coil was successfully developed and tested experimentally. It enabled E-field measurements in highly resistive tunnel terrains and B-field measurements within limited spaces, with low noise and over broad frequency ranges. AMT and CSAMT experiments indicated that the tunnel receiver might be suitable for tunnel EM surveys without requiring corrections for measurement bias.
In the future, the intrinsic noise level of the sensor in the low-frequency band should be decreased. This will not only improve the effective prospecting depth, but it may also be useful for the SIP method module or other low-frequency EM method surveys.
Abbreviations
EM:

Electromagnetic
MT:

Magnetotellurics
STBEM:

Surface-tunnel-borehole electromagnetic
TEM:

Time-domain electromagnetic
IP:

Induced polarization
GPS:

Global positioning system
AMT:

Audio-frequency magnetotellurics
CSAMT:

Controlled-source audio-frequency magnetotellurics
SIP:

Spectral IP
ADC:

Analog-to-digital converter
FPGA:

Field-programmable gate array
MCU:

Microcontroller unit
OCXO:

Oven-controlled crystal oscillator
SNR:

Signal-to-noise ratio
FFT:

Fast Fourier transformation
Declarations
Authors' contributions
CK developed the required hardware and software. JS created the overall design and performed the field tests. SW was the consultant for capacitive electrode technology. All authors read and approved the final manuscript.
Authors' information
K C. was born in JiangXi, China, in 1984. He received his BSc and Ph.D. degrees in Electrical Engineering from the China University of Geosciences, Beijing, China in 2005 and 2016, respectively. From 2008 to present, he has been a researcher with the China University of Geosciences, where he works on geophysical instrument development. His research interests include the development of surface and borehole EM receivers, ocean bottom EM receivers, and EM sensors. J. S. was born in LiangNing, China in 1970. He received his BSc and Ph.D. degrees in geophysics from the China University of Geosciences, Beijing, China in 1994 and 2006, respectively. From 1994 to present, he has been a researcher with the University of Geosciences, where he works on EM method research. Since 2016, he has served as the Director of the Geophysics Institute of the China University of Geosciences. His research interests include EM data processing, inversion, and interpretation. S. W. was born in HeNan, China in 1983. He received his BSc degree in measurement and control technology from the China University of Geosciences, Beijing, China in 2005 and his Ph.D. in EM field and microwave technology from the Chinese Academy of Sciences in 2014. He is a researcher of geophysical instruments.
Acknowledgements
We would like to thank WenBo Wei for the top design of the instrument. This work is partly supported by the scientific program "863" sponsored by the MOST of China. We would also like to thank GaoFeng Ye and Jianen Jin for their help developing our new system, drawing some figures, and helping prepare the manuscript. The manuscript was greatly improved by the reviewer and editor; two anonymous reviewers provided helpful comments. The SSMT2000 processing software was provided by Phoenix Geophysics Ltd.
Competing interests
The authors declare that they have no competing financial interests.
Availability of data and materials
(1) Calibration and noise level of coil sensor, (2) Results of mine field test.
Funding
The general study and field tests were funded by the National High Technology Research and Development Program of China (2014AA06A603, 2016YFC0303100, 2012AA09A201). The development of the triaxial induction coil was supported by the National Science Foundation of China (61531001). The development of the capacitive electrode was supported by the Central University Fundamental Research Project of the Ministry of Education (2652011249, 2652015403).
Publisher's Note
Springer Nature remains neutral with regard to jurisdictional claims in published maps and institutional affiliations.
Open AccessThis article is distributed under the terms of the Creative Commons Attribution 4.0 International License (http://creativecommons.org/licenses/by/4.0/), which permits unrestricted use, distribution, and reproduction in any medium, provided you give appropriate credit to the original author(s) and the source, provide a link to the Creative Commons license, and indicate if changes were made.
Authors' Affiliations
(1)
China University of Geosciences, Beijing, China
(2)
Institute of Electronics, Chinese Academy of Sciences, Beijing, China