Overview of Akatsuki data products: definition of data levels, method and accuracy of geometric correction
Earth, Planets and Space
2017
69:167
Received: 28 July 2017
Accepted: 27 November 2017
Published: 12 December 2017
Abstract
We provide an overview of data products from observations by the Japanese Venus Climate Orbiter, Akatsuki, and describe the definition and content of each data-processing level. Levels 1 and 2 consist of non-calibrated and calibrated radiance (or brightness temperature), respectively, as well as geometry information (e.g., illumination angles). Level 3 data are global-grid data in the regular longitude–latitude coordinate system, produced from the contents of Level 2. Non-negligible errors in navigational data and instrumental alignment can result in serious errors in the geometry calculations. Such errors cause mismapping of the data and lead to inconsistencies between radiances and illumination angles, along with errors in cloud-motion vectors. Thus, we carefully correct the boresight pointing of each camera by fitting an ellipse to the observed Venusian limb to provide improved longitude–latitude maps for Level 3 products, if possible. The accuracy of the pointing correction is also estimated statistically by simulating observed limb distributions. The results show that our algorithm successfully corrects instrumental pointing and will enable a variety of studies on the Venusian atmosphere using Akatsuki data.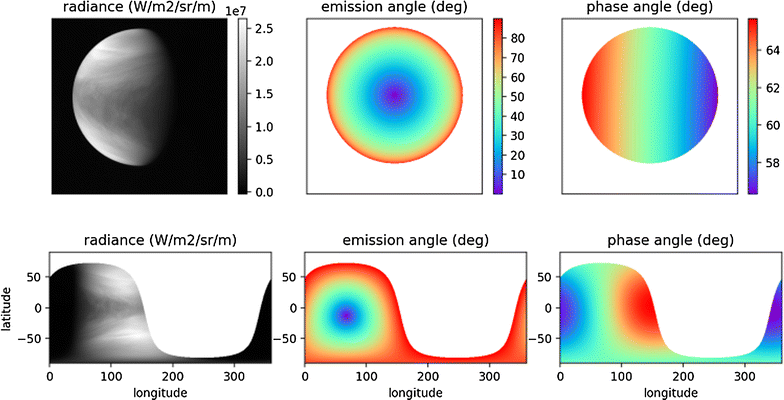 Keywords
VenusData productPointing correctionEllipse-fitting technique
Introduction
The Venus Climate Orbiter, Akatsuki, is a Venus weather satellite launched on May 21, 2010 (Nakamura et al. 2011, 2016). The Akatsuki mission observes cloud distributions at several altitudes on both the dayside and nightside over five wavelength regions selected to obtain cloud distributions at different altitudes. Its main scientific purpose is to contribute to the understanding of the atmospheric circulation and cloud formation processes of Venus. To obtain meteorological information, global three-dimensional maps of the clouds are taken by four cameras at ultraviolet and infrared wavelengths; lightning is detected by a high-speed imager, and vertical atmospheric structures are observed by a radio-occultation technique. Since Akatsuki is in an equatorial elongated orbit with a period of about 11 Earth days, complementary to the polar orbit of Venus Express, which had a period of an Earth day, cloud motions and/or temporal variations at altitudes of about 45–70 km can be well observed continuously over a long period. Systematic imaging observations by Akatsuki are widely expected to enable the three-dimensional visualization of Venusian atmospheric dynamics. In this paper, useful information about the Akatsuki data products is presented.
The atmospheric super-rotation of Venus is one of the most remarkable phenomena in planetary science. Venusian rotation is very slow, having a period of about 243 Earth days, such that an axisymmetric subsolar-to-antisolar (SS-AS) circulation was expected to be predominant (e.g., Stone 1968; Dickinson 1969). However, a number of observations have shown that a fast zonal wind is predominant in the Venusian atmosphere below ~ 80 km altitude (e.g., Schubert 1983). Almost the entire atmosphere of Venus rotates much faster than Venus itself; the zonal wind increases almost linearly with altitude from the ground and reaches about 100 m s−1 at the cloud's top level (~ 70 km altitude), which is about 60 times faster than Venus's solid globe. To explain the generation and maintenance mechanism of the Venusian atmospheric super-rotation, several mechanisms based on thermal tides, meridional circulation, or SS–AS circulation have been proposed (Schubert and Whitehead 1969; Thompson 1970; Fels and Lindzen 1974; Gierasch 1975; Matsuda 1980). Recent numerical studies suggest that both the thermal tide (e.g., Takagi and Matsuda 2006, 2007) and meridional circulation mechanisms (e.g., Yamamoto and Takahashi 2004) might be viable in the Venusian atmosphere, in which the vertical and horizontal transport of angular momentum due to thermal tides, eddies, and mean meridional circulation plays an important role. Other kinds of waves, such as the four- and five-day waves found in UV images of the cloud top (e.g., Del Genio and Rossow 1990; Kouyama et al. 2013, 2015) and small-scale disturbances suspected to be related to gravity waves (e.g., Sagdeev et al. 1986; Hinson and Jenkins 1995; Peralta et al. 2008; Garcia et al. 2009) may also play important roles in the establishment and maintenance of the atmosphere's super-rotation. Schubert et al. (1980) suggested that the zonal-mean meridional circulation consists of several vertically stacked cells extending from the equator to poles, based on wind profiles obtained by entry probes. Significant poleward winds at the cloud-top level have been observed in previous observations (e.g., Machado et al. 2017). It is noted, however, that the number of observed regions and/or local times has been limited and that the horizontal winds observed at the cloud top may include those associated with the thermal tide and various waves. We have no observational results as yet for the zonally averaged meridional circulation in the Venusian atmosphere. To elucidate the dynamical effects of meridional circulation, waves, and eddies, their three-dimensional structures on both the dayside and nightside must be understood (Peralta et al. 2008).
The clouds, which result in a ~ 0.76 integrated-bond albedo for the planet (Moroz et al. 1985), play a major role in controlling the energy balance of the atmosphere. Sulfuric acid cloud particles are produced through photochemistry near and above the cloud tops and through condensation in updrafts within the clouds (Krasnopolsky and Pollack 1994; Imamura and Hashimoto 2001); however, specific dynamical processes contributing to the transport of key species such as SO2 and cloud droplets are unclear. Moreover, there is an unidentified ultraviolet absorber in the clouds, which causes dark features in the UV, with related localized decrease in the albedo. This shows spatial and temporal variations, but its cause is unknown (Lee et al. 2015). To better understand the climate system of the cloudy planet, simultaneous global monitoring of the clouds' optical properties and the three-dimensional wind fields in various spatial scales is essential.
Atmospheric motion can be derived from cloud motions using cloud-tracking techniques (e.g., Rossow et al. 1990). It is difficult, however, to obtain the cloud-motion vectors (CMVs) accurately because the Venus disk on the detector array changes with time in the field of view (FOV). Uncertainties in the spacecraft attitude, the alignment of the instruments, and the like are also problematic. To derive the atmospheric motions accurately, it is crucially important to reduce attitudinal errors in the spacecraft and correct geometry coordinate information such as latitude and longitude. Since three-dimensional atmospheric motions can be complex, it is important to easily link and compare data at various altitudes obtained by different cameras and/or at different wavelengths. To realize this kind of data analysis, a data-archive design that enables users to treat data without any gaps between scientific instruments is required. It is also important to employ conventional analytical methods in terrestrial atmospheric science for direct and efficient application to the Akatsuki data. We have considered an appropriate format for the Akatsuki data, keeping in mind that the data would become a common heritage of humankind, just as previous planetary-exploration data have become.
In this paper, we present the data-processing schemes, content, and format of the Akatsuki public data in "Definition of data levels" section. We describe the method used to reduce the errors in spacecraft attitude and correct the geometry information, an improved limb-fitting technique originally described by Ogohara et al. (2012), in "Reliability of pointing correction by limb fitting" section. We also provide initial quality and accuracy estimations, which will be useful in the analysis of Akatsuki data in "Reliability of pointing correction by limb fitting" section. "Summary" section is a summary of this paper.
Definition of data levels
Akatsuki image data obtained by four imaging cameras (IR1, IR2, LIR, and UVI) are processed by a common data-production pipeline (Fig.
1
). This pipeline is roughly divided into four levels (Levels 0–3), because returning to raw data is not necessary, for example, when calibration and geometry-correction techniques are improved. Table
1
summarizes the standard and ancillary data products of the four imaging cameras. Levels 1, 2, and 3 and the auxiliary data products (which will be defined in the following subsections) will be open to the public about 1.5 years after the arrival of the image data at the Akatsuki Science Data Archives (
http://darts.isas.jaxa.jp/planet/project/akatsuki/
). In addition to such image products, documents of the directory tree and the header list will be released to the public through the archive site (e.g., for L2b of UVI,
http://darts.isas.jaxa.jp/pub/pds3/vco-v-uvi-3-cdr-v1.0/vcouvi_1001/document/
).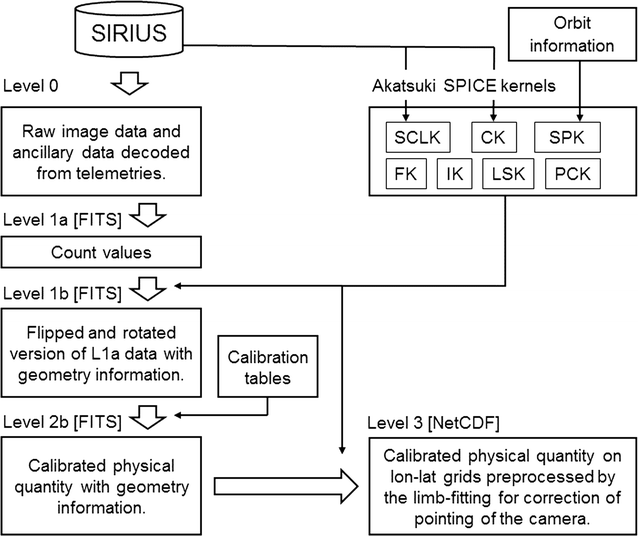 Table 1
Definitions of the Akatsuki data-processing levels
| Abbr. | Level | Description |
| --- | --- | --- |
| L0 | Level 0 | Raw data |
| L1a | Level 1a | Count values in FITS format |
| L1b | Level 1b | Flipped and rotated version of L1a with summary of geometry information in FITS format, and detailed geometry information in FITS format |
| L2b | Level 2b | Calibrated physical quantity with geometry information in FITS format |
| L3 | Level 3 | Calibrated physical quantity on longitude–latitude grids in NetCDF format which is preprocessed using the limb-fitting technique for pointing correction of the camera, including corrected geometry information |
Reliability of pointing correction by limb fitting
In this section, the accuracies of the limb fitting and pointing correction are evaluated by simulating the Venusian limb observed by the cameras (Ogohara et al. 2012). A few updates on the limb-fitting algorithm from Ogohara et al. (2012) are described in the following subsection. To simulate the Venusian limb, the shape of the Venusian limb observed by cameras was investigated, revealing that the limb could not be approximated by an ellipse plus random noise, as was done by Ogohara et al. (2012) for the VMC-UV images of Venus. Thus, the method used for simulating the Venusian limb observed by Akatsuki, rather than VMC, is reported. The artificial elliptical limbs are then randomly generated, using our method, and the accuracy in the pointing correction is evaluated by fitting ellipses to the artificial limbs.
Summary
We developed a data-processing pipeline to generate Akatsuki imaging data from the UVI, IR1, IR2, and LIR cameras. This pipeline has multiple levels, which we call Levels 1a, 1b, 2b, and 3. Levels 1 (1a and 1b) and 2 (2b) consist of uncalibrated and calibrated data (radiances for UVI, IR1, and IR2, and brightness temperature for LIR), respectively. Level-1b data are based on the data from Level 1a by adding geometry information such as the phase, incidence, and emission angles. The data for Levels 1a, 1b, and 2b are stored in the FITS format, commonly used for planetary science. Level-3 data are global maps on the regular longitude–latitude grids, which are produced based on Level-2b data. The errors in the navigation data and the instrument alignment, which cannot be neglected when producing Level-3 data, are corrected by an improved limb-fitting technique in which the pointing of the boresight vector is corrected by fitting an ellipse to the Venusian limb. Level-3 data are stored in the NetCDF format commonly used for atmospheric science.
The accuracy of pointing correction has been statistically estimated. The result shows that the algorithm we developed and used for Level-3 data works well; the uncertainties in the sub-spacecraft point are about O(10−2–10−1) pixels. It is expected that the Level-3 data will be useful for deriving the CMVs accurately, except for some of the nightside images. The pointing-correction method developed for the Akatsuki data pipeline can be applied to the Venusian images obtained from previous missions. It is noted, however, that the present error estimation of the pointing correction is based on assumed ideal conditions. Therefore, we must pay attention to various factors such as the thermal conditions of the satellite and/or the uncertainty in the assumed cloud altitudes, which could affect the pointing correction. We hope that the Akatsuki public data will be widely used for Venusian atmospheric science.
Footnotes
1
A 60-km altitude is assumed for the LIR pic channel in the dataset used in this study (internal release version v20170601).
Abbreviations
CCD:

charge-coupled device
CMV:

cloud-motion vector
DARTS:

the Data Archive and Transmission System
DE:

digital electronics
DR:

data recorder
FITS:

Flexible Image Transport System
FOV:

field of view
HDU:

Header Data Unit
HLS:

hyperaccurate least squares
IFOV:

instantaneous field of view
IR1:

infrared 1-μm camera
IR2:

infrared 2-μm camera
JAXA:

Japan Aerospace Exploration Agency
JPEG:

Joint Photographic Experts Group
JPL:

Jet Propulsion Laboratory
L1a:

Level 1a
L1b:

Level 1b
L2a:

Level 2a
L2b:

Level 2b
L3:

Level 3
L3x:

Level 3x
LAC:

Lightning and Airglow Camera
LIR:

long-wave infrared camera
NASA:

National Aeronautics and Space Administration
NetCDF:

Network Common Data Format
SIRIUS:

Scientific Information Retrieval and Integrated Utilization System
TI:

time indicator
UVI:

ultraviolet Imager
UV:

ultraviolet
VCO:

Venus Climate Orbiter
VMC:

Venus Monitoring Camera
Declarations
Authors' contributions
KO, MT, HK, NS, MY, SM, AY, TK, and TH developed the algorithm. KO and MT were involved in accuracy estimation. TH and SM were involved in cloud tracking. NI, SO, TS, TMS, AY, SW, MY, MT, TF, TI, MS, MF, TS, and SK developed and calibrated an instrument. SM, GLH, and YY were involved in data processing and archiving inside JAXA. TI, TS, TMS, SO, AY, MY, TF, MS, KO, KS, HA, and HK operated the spacecraft. TI and Y-JL developed the observation planning. CH and NI calculated the orbit. MN, TA, NI, and TS were involved in management of the project. All authors read and approved the final manuscript.
Acknowledgements
The authors thank all the members of the Akatsuki project team for their remarkable support in developing and operating the spacecraft and processing data on the ground. This study is partially supported by JSPS KENHI 16H02231 and 16H02225.
Competing interests
The authors declare that they have no competing interests.
Consent for publication
Not applicable.
Availability of data and materials
L2 and L3 data and the SPICE kernels used in this study are the internal release version v20170601 of the products. However, they will be released to the public through the JAXA's data publication site http://darts.isas.jaxa.jp/planet/project/akatsuki/.
Ethics approval and consent to participation
Not applicable.
Funding
This study is partially supported by JSPS KAKENHI 16H02231 and 16H02225.
Publisher's Note
Springer Nature remains neutral with regard to jurisdictional claims in published maps and institutional affiliations.
Open AccessThis article is distributed under the terms of the Creative Commons Attribution 4.0 International License (http://creativecommons.org/licenses/by/4.0/), which permits unrestricted use, distribution, and reproduction in any medium, provided you give appropriate credit to the original author(s) and the source, provide a link to the Creative Commons license, and indicate if changes were made.
Authors' Affiliations
(1)
School of Engineering, University of Shiga Prefecture, Hikone, Shiga, Japan
(2)
Division of Science, Kyoto Sangyo University, Kita-ku, Japan
(3)
Institute of Space and Astronautical Science, Japan Aerospace Exploration Agency, Sagamihara, Japan
(4)
Faculty of Environmental Earth Science, Hokkaido University, Sapporo, Japan
(5)
Planetary Exploration Research Center, Chiba Institute of Technology, Narashino, Japan
(6)
Artificial Intelligence Research Center, National Institute of Advanced Industrial Science and Technology, Tokyo, Japan
(7)
Department of Earth Science, Okayama University, Okayama, Japan
(8)
Graduate School of Frontier Sciences, University of Tokyo, Kashiwa, Chiba, Japan
(9)
Institute of Space and Astronautical Science, Japan Aerospace Exploration Agency, Sagamihara, Japan
(10)
Department of Planetology/Center for Planetary Science, Kobe University, Kobe, Japan
(11)
School of Computer Science and Engineering, The University of Aizu, Aizuwakamatsu, Fukushima, Japan
(12)
Natural Science Division, Tokyo Gakugei University, Koganei, Japan
(13)
Department of Physics, Rikkyo University, Tokyo, Japan
(14)
Hokkaido Information University, Ebetsu, Hokkaido, Japan
(15)
School of Commerce, Senshu University, Kawasaki, Japan
(16)
Omori Medical Center, Toho University, Tokyo, Japan
(17)
Planetary Plasma and Atmospheric Research Center, Graduate School of Science, Tohoku University, Sendai, Japan
(18)
Department of Information Engineering, National Institute of Technology, Matsue College, Matsue, Japan
(19)
Division of Science, Kyoto Sangyo University, Kyoto, Japan
(20)
, Setagaya-ku, Tokyo, Japan