Chronology of the 2015 eruption of Hakone volcano, Japan: geological background, mechanism of volcanic unrest and disaster mitigation measures during the crisis
Earth, Planets and Space
2018
70:68
Received: 10 November 2017
Accepted: 18 April 2018
Published: 26 April 2018
Abstract
The 2015 eruption of Hakone volcano was a very small phreatic eruption, with total erupted ash estimated to be in the order of only 10
2
m
3
and ballistic blocks reaching less than 30 m from the vent. Precursors, however, had been recognized at least 2 months before the eruption and mitigation measures were taken by the local governments well in advance. In this paper, the course of precursors, the eruption and the post-eruptive volcanic activity are reviewed, and a preliminary model for the magma-hydrothermal process that caused the unrest and eruption is proposed. Also, mitigation measures taken during the unrest and eruption are summarized and discussed. The first precursors observed were an inflation of the deep source and deep low-frequency earthquakes in early April 2015; an earthquake swarm then started in late April. On May 3, steam wells in Owakudani, the largest fumarolic area on the volcano, started to blowout. Seismicity reached its maximum in mid-May and gradually decreased; however, at 7:32 local time on June 29, a shallow open crack was formed just beneath Owakudani as inferred from sudden tilt change and InSAR analysis. The same day mud flows and/or debris flows likely started before 11:00 and ash emission began at about 12:30. The volcanic unrest and the eruption of 2015 can be interpreted as a pressure increase in the hydrothermal system, which was triggered by magma replenishment to a deep magma chamber. Such a pressure increase was also inferred from the 2001 unrest and other minor unrests of Hakone volcano during the twenty-first century. In fact, monitoring of repeated periods of unrest enabled alerting prior to the 2015 eruption. However, since open crack formation seems to occur haphazardly, eruption prediction remains impossible and evacuation in the early phase of volcanic unrest is the only way to mitigate volcanic hazard.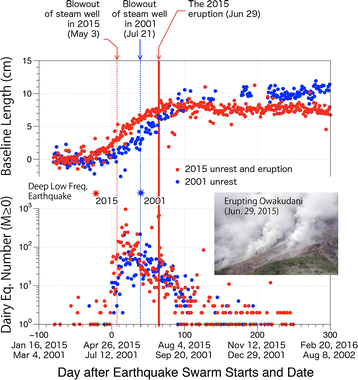 Keywords
Hakone
Phreatic eruption
Lahar
Debris flow
Ash fall
Fumarole
Introduction
Phreatic eruptions are caused by a violent expansion of steam without direct involvement of magma (e.g., Barberi et al. 1992). Unfortunately, precursors of phreatic eruptions are often subtle or useless, even at well-observed volcanoes (e.g., Jolly et al. 2010). On the other hand, all around the world, sites of potential phreatic eruptions often form major tourist destinations for their peculiar landscape and scenery. The proximity of people to eruption centers and subtle precursors of phreatic eruptions have led to tragedies, with the 2014 eruption of Ontake volcano the latest example (Maeno et al. 2016). However, the 2014 Ontake eruption had subtle but detectable preparatory processes, such as inflation of deep and shallow sources (Miyaoka and Takagi 2016; Murase et al. 2016) and earthquakes in the conduit system (Kato et al. 2015). These observations suggest that adequate monitoring and modeling could pave the way for success in alerting of phreatic eruption well in advance.
Hakone volcano had no historical record of eruption before 2015; however, frequent earthquake swarms had concerned local people. Due to its proximity to the capital city of Tokyo, and plentiful hot spring resources, Hakone is one of the most popular resort areas in Japan and approximately twenty million tourists visit every year. Concerned about eruptions, the local government has deployed seismological and geodetic instruments in and around the volcano since 1960. In the past two decades, Hakone has been active in terms of seismicity and crustal deformation and a model of the magma-hydrothermal system of the volcano has been proposed (Mannen 2008). In addition, major volcanic unrest in 2001 prompted establishment of a mitigation plan by local governments. Under this circumstance, the 2015 eruption occurred.
Owing to the reasonably equipped monitoring system, the volcanic activities before, during and after the eruption were observed well, and a geophysical model of the eruption was established even though the eruption was very small. Also, the pre-established mitigation plan enabled the ability to set a no-entry zone long before the eruption and human damage was therefore avoided. We consider that our experience can help improve future monitoring and mitigation plans not only of Hakone volcano, but of other hydrothermal-prone volcanoes. In this paper, general geological and geophysical studies of Hakone volcano are reviewed and a chronology of the 2015 eruption is summarized. Based on this knowledge, mechanisms that caused the precursor unrest and eruption will be discussed.
Chronology of the 2015 eruption
Precursor (early April–June 2015)
The 2015 eruption of Hakone volcano occurred on June 29, 2015; however, its precursory unrest started as a slight inflation of the deep Mogi source from early April (Fig. 5a). It is noteworthy that an unprecedented swarm of DLF was observed on April 5; according to the JMA unified catalog, 16 DLFs were recorded on the day (Fig. 5c).
Deep inflation was recognized until the end of April and the earthquake swarm started on April 26. After this time, seismicity increased rapidly and reached its climax on May 15, when 955 earthquakes (M ≥ 0) were observed (Fig. 5d). Then, seismicity gradually decreased, although the daily number of earthquakes highly fluctuated.
The epicenters of the earthquake swarm were mainly located on a zone traversing the post-caldera central cones from north to south (Fig.
6
). This zone was seismically active through the duration of the earthquake swarm, although there were several surges of seismicity, the duration of which were less than a day and more than tens of earthquakes occurred within a small region (~ 2 km in diameter). These seismic surges accompanied tilt change near the epicenter region (Fig.
7
), and hypocenters, precisely determined using the double-difference (DD) method, showed platelike distributions (Fig.
6
). Although detailed analysis of seismic surges during the 2015 unrest is yet to undertaken, these features seem to imply fluid injection as observed during the 2008–2009 unrest (Yukutake et al.
2011b
).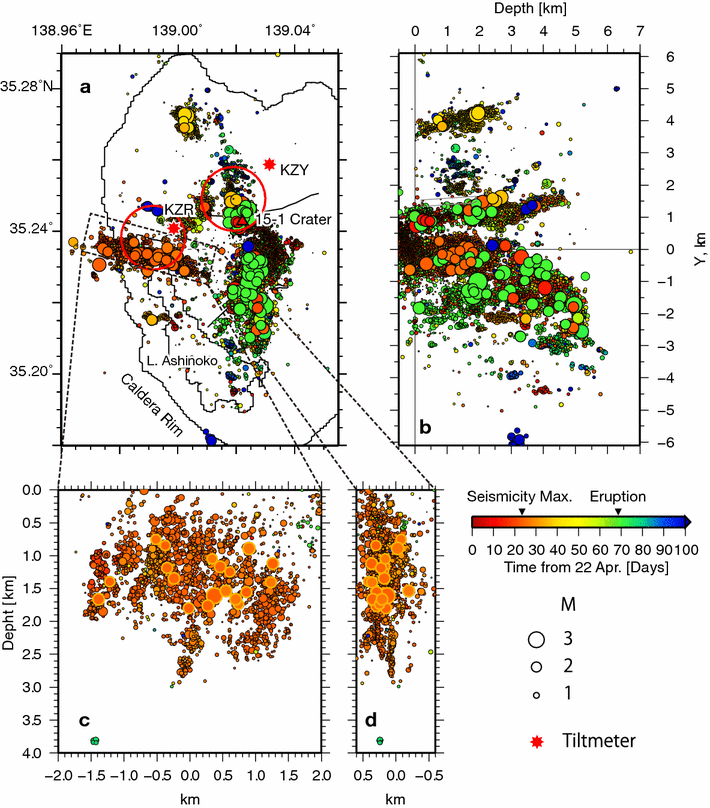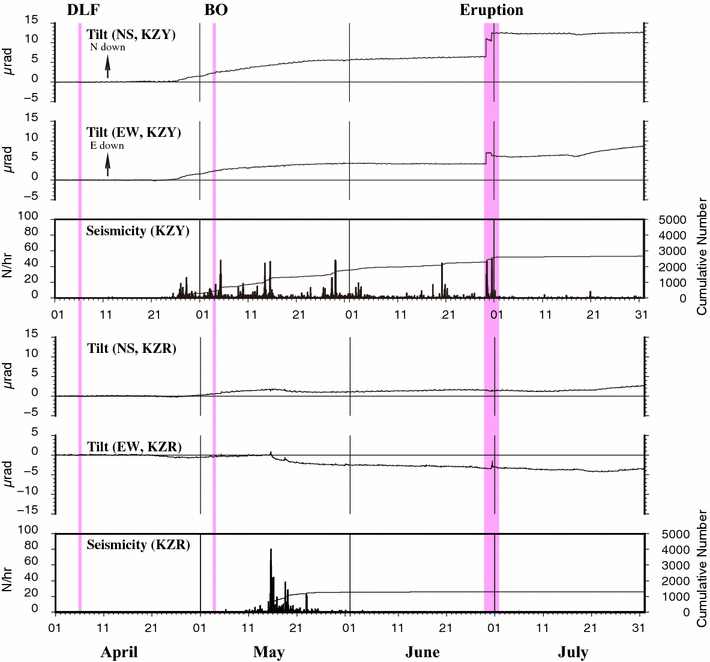 Anomalies of steam activity first manifested as intensified steaming of no. 39 SPW at Owakudani on April 16 (Fig.
8
a). Since no. 39 SPW had been less productive, this intensification initially pleased the hot springs company; however, in the early morning of May 3, the well fell into a blowout condition (Fig.
8
b). The usual hot spring production of no. 39 SPW was 50 m
3
/day, but after this time, available water of 500 m
3
/day was all blown away by intensified steam gushing out from the top of the mixing facility. On May 7, InSAR analysis detected a slight and very local uplift (up to 7 cm within an area of < 100 m radius) around no. 39 SPW (Doke et al.
2018
; Kobayashi et al.
2018
). After mid-May, steaming activity started from the ground surface around no. 39 SPW (Fig.
8
c) and gradually intensified. In contrast, steaming activity of no. 39 SPW diminished and stopped by late June (Fig.
8
d). Also, formations of open cracks were recognized on the ground surface around the well in June (Fig.
9
). Due to the steaming activity around the SPW, the ground surface was rarely observed in late June.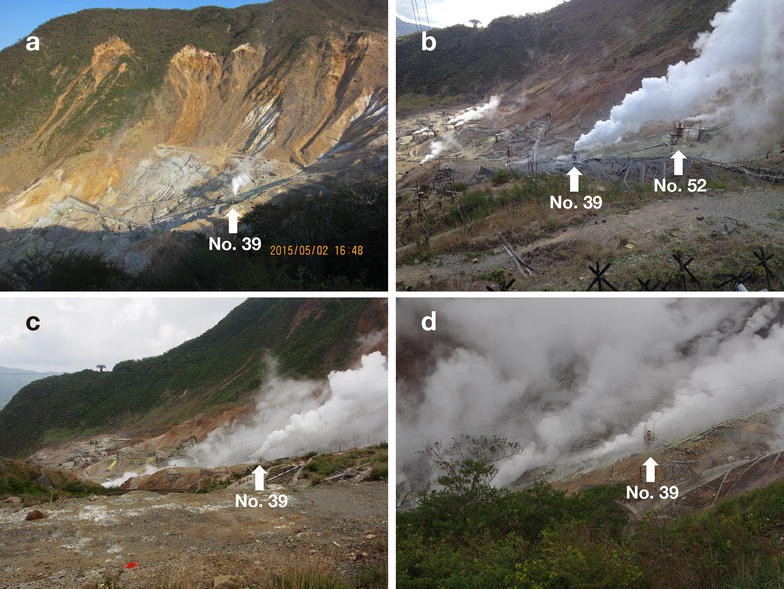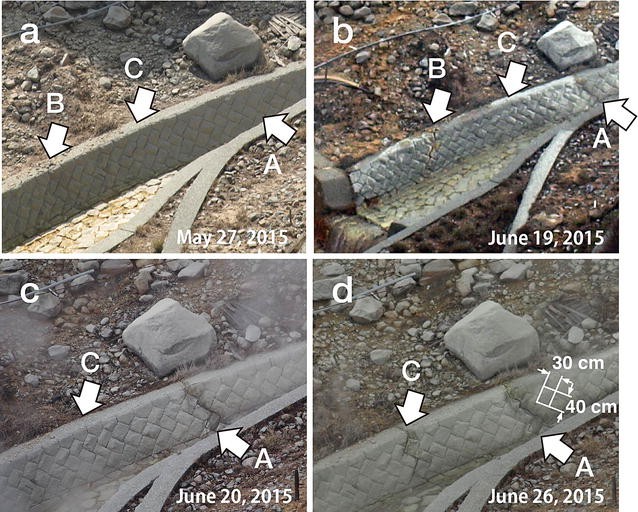 Eruption (June 29–July 1)
Steaming activity after the eruption
After the eruption, steam emissions have vigorously continued to the present (early 2018). Among them, steam emissions from the 15-1 crater have been the largest and most vigorous since the eruption.
In the 15-1 crater, a boiling mud pool has appeared since July 3, 2015, when mud fountains higher than the crater rim were first observed from the ground (Fig.
17
a). The mud pool suddenly exploded at 12:01 on July 21, and a jet of mud was thrown up to 46 m above the crater rim; however, almost all the material ejected went back into the crater and no significant ash falls took place beyond the crater rim (Fig.
17
b). This event has accompanied no significant tilt, tremor or infrasound signals. It is difficult to say when the mud fountaining ceased, although it was not witnessed after November 2015. The mud water was monitored from March 2016 until it dried up in mid-August 2016 (Fig.
17
c). The water was characterized by a very low pH and very high chloride and boron ions (Table
2
). After drying up, the mud pool was filled by debris falling from a cliff behind the crater during typhoon rain on August 22. Following this, bubbling in the mud pool turned into several fumaroles, which are still vigorously emitting steam at temperatures above 150 °C at the time of writing (Fig.
17
d).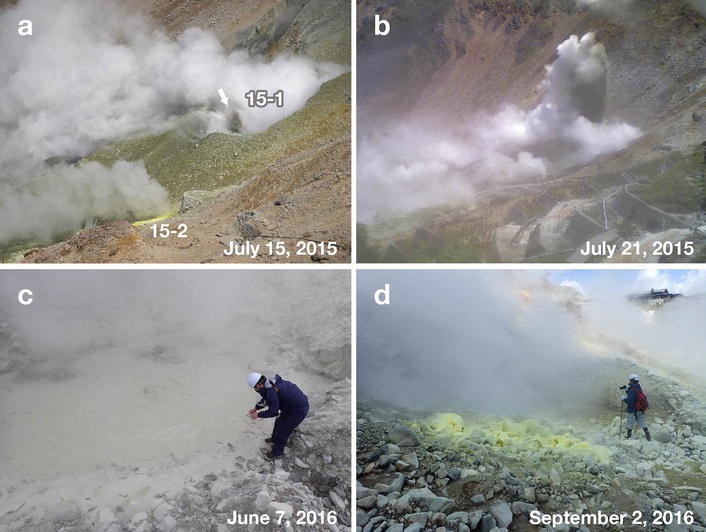 Table 2
Chemical composition of mud pool water formed in the 15-1 crater
Datea

Temp (°C)

pH

ECb

Composition (mg/L)

Na

K

Mg

Ca

Fe

Al

Cl

SO4

B

March 28

78.9

1.34

3.42

496

16.0

1210

1840

3500

2660

20,600

4700

220

May 13

93.1

1.76

2.02

139

12.6

178

384

3390

708

7180

1880

105

May 27

90.4

1.06

6.50

1060

156

1130

2490

4120

5740

38,400

3690

560

June 7

94.0

0.97

7.07

1120

138

1350

2650

3340

6060

39,100

3530

3030

June 27

94.6

0.79

7.05

74.1

21.7

220

225

2750

2630

20,500

1860

1670

July 14

94.4

0.05

37.4

206

54.4

636

478

5050

4770

65,300

2160

7620

July 28

95.2

< 0

> 20

439

134

744

970

2480

4580

87,600

3640

10,400
The surface waters of Owakudani were also monitored before, during and after the eruption (Fig.
18
). It is noteworthy that the level of Cl, which is considered a proxy of deep hydrothermal contribution, was not high when the volcano was erupting but became higher later. Downstream of the eruption center, high Cl was observed not at the time of eruption but soon after (early July to early August) and did not return to background levels until early autumn of 2016 (Fig.
18
a, b). In the upper Owakudani area, the elevation of which (1066 m above sea level) is higher than the eruption center (1020 m asl), Cl content has been increasing gradually from after the eruption to the present (Fig.
18
a, b).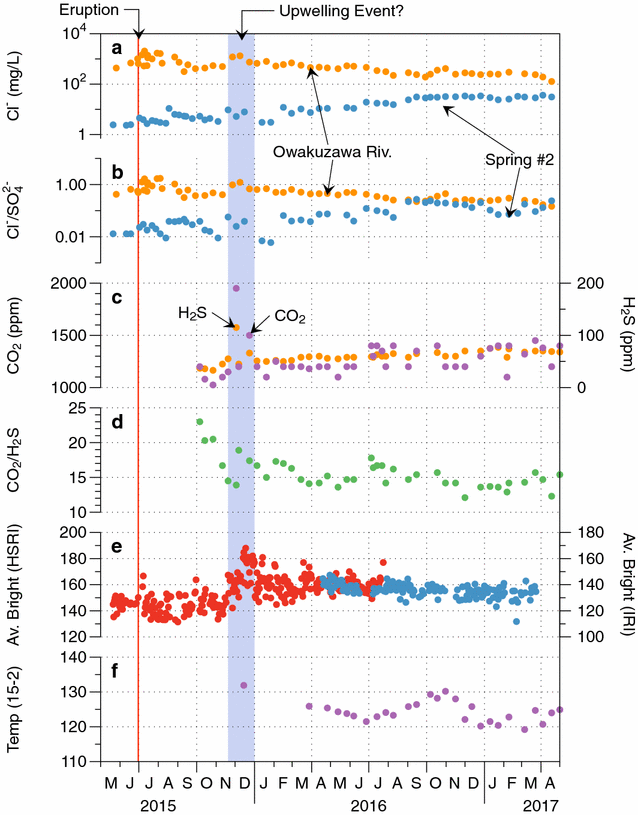 Volcanic gas at Owakudani and surrounding areas has been monitored since 2001 (Ohba et al. 2008). Besides this, volcanic gas emitted from soil peripheral to the steaming area (Loc. 3 in Fig. 2) had been monitored using detector tubes almost bimonthly since October 2015. This gas shows that concentrations of CO2 and H2S, which are representative gas components of the region, are becoming gradually higher since the eruption, while CO2/H2S ratios are getting lower (Fig. 18c, d). However, in December 2015, a sudden increase in CO2 and H2S concentrations and CO2/H2S ratio was observed.
Photographs of the eruption center have been taken automatically by a time-lapse camera and a webcam installed by the HSRI and Industrial Research Institute (IRI) of Kanagawa Prefecture. Figure 18e shows average brightness of the eruption center area from the frames. The average brightness was high soon after the eruption; however, it came down to pre-eruption levels quickly. The average brightness increased again in late November 2015, peaking in mid-December, followed by a gradual decrease. This brightness increase is coincident with the sudden increase in volcanic gases mentioned previously. Since there is no measurement before December 2015, we are not able to see whether NFF temperature rose at this occasion. However, the NFF temperature seems to show a declining trend with some fluctuation (Fig. 18f).
Mitigation measures at Hakone volcano
Development of preparedness measures
Before the 2001 unrest, hazard mitigation plans for eruptions and unrest of Hakone volcano were virtually nonexistent. Consequently, no measures for public safety were conducted during the 2001 unrest, even though SO2-rich mist gushing from SPWs had covered the sightseeing area of Owakudani. One reason for the omission was very complicated pluralistic governance of the Owakudani sightseeing area; the land owner was a private company, the trekking paths in and around the area were managed by the municipal government, the parking lot and road to the area were managed by the prefectural government, and the ropeway and bus to the area were run by two transportation companies. More importantly, there were no clear criteria to initiate evacuation from the sightseeing area. Although the law empowers mayors to declare evacuation instructions and to place areas off-limits, they need supportive criteria to demonstrate accountability for the declaration.
Since the 2001 unrest, the municipal government has begun to create a hazard map for volcanic activity. After a 2-year discussion involving a panel including academic experts, a hazard map was created and distributed to the residents and business operators in the town in the spring of 2003. At that time, JMA was simply expected to describe the status of volcanic activity based on pure natural science; however, in 2008, the Meteorological Service Act was revised and JMA was obliged to announce volcano alert levels (VALs) when volcanic unrest or eruptions took place.
VALs are characterized by their linkage with mitigation measures implemented by municipal governments (Yamasato et al. 2013). Before the introduction of VALs for a certain volcano, JMA and municipal governments around the volcano must discuss and correlate mitigation measures and volcanic phenomena for each level.
For Hakone volcano, after a-year-long coordination processes among municipal and prefectural governments and JMA, VALs were introduced in March 2009. At the same time, the Disaster Prevention Council for Hakone volcano (hereafter DPC) was established. The task of the DPC is to make disaster mitigation plans and to give advice to the mayor.
VALs of Hakone volcano are based on a scenario, which traces the 2001 unrest and a possible phreatic eruption. In the scheme, it was decided to elevate VALs from 1 (normal) to 2 (do not approach the crater) when earthquake swarms, crustal inflation and steaming anomalies are observed at the same level of those observed during the 2001 unrest.
However, after the 2014 eruption of Ontake volcano, which resulted in fatalities even though the VAL remained at 1 (normal), the DPC for Hakone volcano established a manual that enables partial and full evacuations from the Owakudani sightseeing area even if observed unrest is subtler than that required to elevate to a VAL of 2. The manual went into effect on March 27, 2015.
Volcanic alert levels during the 2015 unrest
As mentioned, the 2015 volcanic unrest of Hakone was first recognized at the end of April and the earthquake swarm started on April 26. These observations were shared among members of DPC on April 28, when they assembled to attend the first evacuation drill carried out in the Owakudani sightseeing area after establishment of the evacuation manual.
The blowout of no. 39 SPW was recognized by a researcher of HSRI in the early morning of May 3 and it was immediately reported to the security and disaster management bureau of Kanagawa prefectural government, which is the secretariat of the DPC. The first meeting of the DPC was held on that afternoon, and it was decided to close trekking courses around Owakudani area from the next day. A DPC meeting was also held on May 5, and the procedure for total closure of Owakudani sightseeing area was discussed.
On May 5, larger earthquakes (M > 2) took place near Owakudani and, in the early morning of May 6, the VAL was elevated to 2 and the Owakudani sightseeing area was completely closed based on the procedure. At that time, the entrance of workers, researchers and local authorities to the Owakudani sightseeing area was permitted; however, after the detection of local uplift around the no. 39 SPW by InSAR (May 7), the entrance permission was rescinded temporarily on May 8, and a no-entry zone was established inside a 200 m radius from the well (May 11).
On the morning of June 29, Hakone town urgently rescinded permission for the hot spring company to enter the restricted area based on advice of JMA, which considered the seismic surge unusual. The eruption started on June 29; however, crater formation and infrasound signals were not confirmed that day. Thus, the recognition of an eruption was postponed and the eruption was declared by JMA at 12:30 of June 30. At the same time, the VAL was elevated to 3 and residents within 700 m of the vent area, all of whom lived in cottages, were ordered to evacuate.
The VAL was decreased to 2 on September 11, 2015, since inflation of the edifice seemed to have halted since August. The VAL was then decreased to 1 on November 20, 2015; however, since steaming activity continued, the Owakudani sightseeing area remained closed. Operation of the ropeway restarted on April 23, 2016, after gas monitoring and safety measures were established; however, passengers were not allowed to walk out from Owakudani station. Most of the Owakudani sightseeing areas were then opened to the public on July 26, 2016, once further safety procedures were established. However, a part of the sightseeing area and all trails in the younger central cones are still closed at the time of writing, since gas monitoring and safety measures for these areas are still under discussion.
Conclusion
The precursor, eruption and pre-eruptive steaming activity of the 2015 eruption of Hakone volcano were summarized. There was a broad spectrum of precursors including inflation in deep regions, deep low-frequency events, earthquake swarms, tilt change and anomalies of steaming activity. Due to such extensive unrest, hazard mitigation measures were implemented 2 months before the eruption. The swift implementation was helped by the evacuation manual prepared by local governments and the volcano alert level system announced by Japan Meteorological Agency, both of which were established before onset of the 2015 unrest.
Volcanic unrest of Hakone volcano seems to be triggered by magma replenishment to the deep magma chamber and by pore pressure increase in the hydrothermal system beneath the volcano. Geophysical observations around the eruption center imply that the 2015 eruption took place owing to the formation of an open crack that reached near to the ground surface 5 h before the onset of ash fall. After the crack formation, fluid discharge from the source crater likely occurred before the ash emission. However, no signals associated with the ash fall or fluid discharge was observed by geophysical instruments.
Abbreviations
CSAMT:

Controlled Source Audio-Frequency Magneto-Telluric
DPC:

Disaster Prevention Council for Hakone volcano
HSRI:

Hot Springs Research Institute of Kanagawa Prefecture
InSAR:

interferometric synthetic-aperture radar
IRI:

Industrial Research Institute of Kanagawa Prefecture
JMA:

Japan Meteorological Agency
MES:

Matsushiro Earthquake Swarm (1965–1967)
NFF:

newly formed fumaroles
NHF:

heat flux due to natural steaming activity on the surface (= not steam well) in Owakudani
RTC:

rapid tilt change
SPW:

steam production well for making hot spring water in Owakudani
VAL:

volcano alert level
Declarations
Authors' contributions
KM engaged in geological observation and drafted the manuscript compiling multidisciplinary data. YY determined hypocenter distributions. GK conducted field sampling and chemical analysis of waters in Owakudani. MH processed GNSS data to deduce inflation of the deep source. KI analyzed tiltmeter data. JT conducted field surveys during the eruption with KM. All authors read and approved the final manuscript.
Acknowledgements
The CSAMT profile was provided by Waterworks Department, Public Enterprise Agency of Kanagawa Prefecture. Heat flux in Owakudani had been observed by Odawara Public Works Center. Industrial Research Institution of Kanagawa Prefecture provided images taken by a web camera after the eruption. Hakone Town Office and Hakone Onsen Kyokyu Co. Ltd helped with field survey. Discussion with Kohichi Uhira (JMA), Mitsuhiro Yoshimoto (MFRI), Masashi Nagai (NIED) and Takeshi Ohba (Tokai Univ.) was beneficial to the study. Minako Shibata patiently reviewed eruption movies and determined timing of crater formation. This manuscript was greatly improved by helpful comment from two anonymous reviewers and Christina Magill (Macquarie Univ.).
Competing interests
The authors declare that they have no competing interests.
Ethics approval and consent to participate
Not applicable.
Funding
This study was implemented as an ordinary research project of HSRI.
Publisher's Note
Springer Nature remains neutral with regard to jurisdictional claims in published maps and institutional affiliations.
Open AccessThis article is distributed under the terms of the Creative Commons Attribution 4.0 International License (http://creativecommons.org/licenses/by/4.0/), which permits unrestricted use, distribution, and reproduction in any medium, provided you give appropriate credit to the original author(s) and the source, provide a link to the Creative Commons license, and indicate if changes were made.
Authors' Affiliations
(1)
Hot Springs Research Institute of Kanagawa Prefecture, Odawara, Japan
(2)
Japan Meteorological Agency, Chiyoda, Japan