Venus looks different from day to night across wavelengths: morphology from Akatsuki multispectral images
Earth, Planets and Space
2018
70:24
Received: 9 August 2017
Accepted: 24 January 2018
Published: 12 February 2018
Abstract
Since insertion into orbit on December 7, 2015, the Akatsuki orbiter has returned global images of Venus from its four imaging cameras at eleven discrete wavelengths from ultraviolet (283 and 365 nm) and near infrared (0.9–2.3 µm), to the thermal infrared (8–12 µm) from a near-equatorial orbit. The Venus Express and Pioneer Venus Orbiter missions have also monitored the planet for long periods but from polar or near-polar orbits. The wavelength coverage and views of the planet also differ for all three missions. In reflected light, the images reveal features seen near the cloud tops (~ 70 km altitude), whereas in the near-infrared images of the nightside, features seen are at mid- to lower cloud levels (~ 48–60 km altitude). The dayside cloud cover imaged at the ultraviolet wavelengths shows morphologies similar to what was observed from Mariner 10, Pioneer Venus, Galileo, Venus Express and MESSENGER. The daytime images at 0.9 and 2.02 µm also reveal some interesting features which bear similarity to the ultraviolet images. The nighttime images at 1.74, 2.26 and 2.32 µm and at 8–12 µm reveal features not seen before and show new details of the nightside including narrow wavy ribbons, curved string-like features, long-scale waves, long dark streaks, isolated bright spots, sharp boundaries and even mesoscale vortices. Some features previously seen such as circum-equatorial belts (CEBs) and occasional areal brightenings at ultraviolet (seen in Venus Express observations) of the cloud cover at ultraviolet wavelengths have not been observed thus far. Evidence for the hemispheric vortex organization of the global circulation can be seen at all wavelengths on the day- and nightsides. Akatsuki images reveal new and puzzling morphology of the complex nightside cloud cover. The cloud morphologies provide some clues to the processes occurring in the atmosphere and are thus, a key diagnostic tool when quantitative dynamical analysis is not feasible due to insufficient information.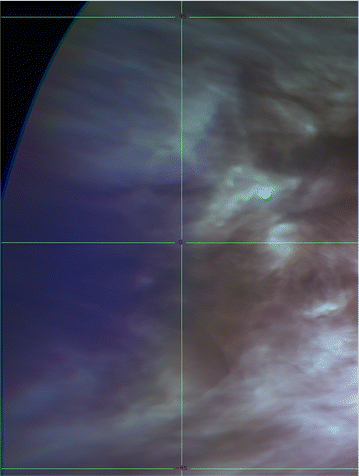 Keywords
Venus clouds
Morphology
Day
Night
Ultraviolet
Near infrared
Akatsuki observations
The Akatsuki orbiter was originally planned to be inserted into Venus orbit on December 7, 2010, after a successful launch on May 21, 2010, and after a short cruise to Venus, into a near-equatorial 30-h elliptic orbit moving in the same direction as the planet to study the superrotation (Nakamura et al. 2011). However, a malfunction during the procedure led to the spacecraft missing orbital insertion and ending up in an ~ 205-day orbit around the Sun (Nakamura et al. 2016). The orbit was altered to a 199-day period by November 2011, while the spacecraft navigation team found a solution to encounter Venus again and to attempt orbit insertion. Orbit insertion was achieved on December 7, 2015, thanks to the careful work of the navigation team by using only the attitude control thrusters, achieving a rare reprieve for a planetary mission. The operational orbit achieved has a similar near-equatorial inclination and eccentricity, but a much longer period (10.5 days). Despite the unplanned extended exposure to much harsher solar thermal conditions during the eleven perihelion passages, the cameras are performing well, while some effects on the readout electronics of the four quadrants of the IR1 camera (Iwagami et al. 2018) and the IR2 camera (Satoh et al. 2017) were discovered. The impact was that the quadrant boundaries were visible and in IR1, the pixels along the column direction above and below the planet's image on the CCD were filled occasionally with constant values. Both IR1 and IR2 images also showed lines at the internal boundaries of the quadrants (due to slightly different gains of the separate readout electronics for the four quadrants). These anomalies were not present in the laboratory images and in the images acquired during the first orbit insertion attempt in 2010. Image data processing and calibration procedures have been developed and adapted to remove these effects. The Akatsuki orbiter is providing equatorial, global images of Venus from its four cameras with spatial resolution comparable to or better than those obtained from the Venus Monitoring Camera (Markiewicz 2007) on Venus Express. The VIRTIS instrument on Venus Express imaged Venus in both reflected and emitted radiation between 0.28 and 5 µm (Drossart 2007; Piccioni et al. 2007b) and mostly covered portions of the southern hemisphere. The Akatsuki images provide excellent symmetric views of Venus about its equator on day- and nightsides with good image quality spatial resolution from the 1024 × 1024 pixel detectors of the UVI, IR1 and IR2 cameras. The thermal infrared camera (LIR) uses a smaller detector and yields smaller sized images of Venus (~ 18 pixel diameter at apoapsis). Imaging in reflected light is performed in portions of the orbit when the phase angle is appropriate with imaging at roughly 2-h intervals. Imaging of the nightside of Venus is limited to portions of the orbit when the angular separation between the Sun and Venus is larger than 26.5° to avoid stray light. Also, pointing is adjusted to keep as much of the saturated dayside portion of the planet out of the field of view of the IR2 and IR1 cameras as possible to minimize data contamination by the bright dayside portion of the planet. Additionally, data communication to the 64 m Usuda Deep Space Station near Nagano, Japan, occurs daily for about 8 h (except during the solar conjunction period lasting about a month) with data rates varying from 8 kbps to 32 kbps as the Earth–Venus range varies.
Three filters of the IR1 camera (Iwagami et al. 2011) with band passes centered at 0.9, 0.97 and 1.07 µm are used for surface imaging on the nightside in the CO2 windows where the atmosphere and the clouds are more transparent. The filters allow for estimating the near-surface abundance of water vapor using differential absorption at 0.97 and 1.01 µm (and limited by the large atmospheric opacity) as well as the spatial variation of surface emissivity using all three channels. Of the four filters of the IR2 cameras centered at 1.735, 2.02, 2.26 and 2.32 µm, the 1.735- and 2.26-µm filters together enable investigation of aerosol properties and the 2.26- and 2.32-µm filters are useful for CO abundance on the nightside. The 2.02-µm filter allows studying cloud-top elevation due to CO2 absorption on the dayside. The two filters of UVI allow a study of SO2 abundance above the clouds due to its absorption at 283 nm but not at 365 nm. However, there may be other absorbers which may also absorb differentially at these two wavelengths. All of these filters are useful to compare global contrast patterns or cloud morphology and measure cloud motions for improved understanding of the global atmospheric circulation at slightly different altitudes.
Introduction
The cloud cover on Venus is ubiquitous, unlike that found on Earth and Mars. That Venus shows little contrast at most reflected wavelengths except ultraviolet (UV) has been known for a long time (Coffeen et al. 1971). The dayside contrast patterns observed are known to vary on short timescales. The dayside contrasts are wavelength dependent (200–600 nm, peaking at 365 nm and vanishing at the extremes of this range). Further, the contrasts vary with phase angle and are found to also be scale dependent. At shorter wavelengths (< 600 nm), contrast in global images peaks between 40° and 60° phase angles and at around 140° at longer wavelengths (> 550 nm) as measured from the unpolarized light images (Limaye 1984) from the Pioneer Venus Orbiter (PVO) Cloud Photopolarimeter (OCPP, Travis et al. 1979). The contrasts on Venus were noticed more than a century ago and recorded as drawings as early as 1881 (Niesten and Stuyvaert 1904). Venus was photographed by several observers in blue–violet as early as the 1920s (Ross 1927, 1928; Slipher 1931). Subsequently, when more frequent ultraviolet images were obtained, it was realized that Venus showed a lot of variability, and hence, the images revealed clouds rather than features on the surface (Claydes 1909). A brief review of cloud patterns in telescopic images of Venus has been presented by Dollfus (1975).
We present here the first views of Venus from the Akatsuki data that reveal this variability not only on the dayside, but also on the nightside from imaging at different wavelengths. The day- and nightside pattern differences stem from how they are observed. On the dayside clouds are imaged in reflected light and thus reveal patterns near the cloud tops, while the nightside clouds are observed in radiation emitted by the atmosphere below the clouds toward the surface. Thus, the nightside images reveal features caused by differences in opacity of the upper portions of the cloud layer and refer to the mid- and lower levels illuminated by radiation from the lower levels of the atmosphere at 1.74, 2.26 and 2.32 µm. Thus, nightside features may have different origins and are likely related to differences in cloud properties arising from trace species, cloud chemistry and microphysics and dynamics, somewhat different from cloud particle property variations in Earth clouds, which are primarily due to phase change related to vertical motions. At 0.9, 0.97 and 1.01 µm, the Venus atmosphere and clouds are somewhat transparent, and thus, radiation from the surface is detected in the nightside images.
Dayside images of Venus
By now, global views of Venus have been obtained by many spacecraft missions at a limited number of wavelengths. Images at 365 nm were obtained from Mariner 10, the Pioneer Venus Orbiter, and Venus Express prior to Akatsuki. The first spacecraft images were obtained over an eight-day period during the Mariner 10 flyby of Venus in February 1974 (Murray et al. 1974). The morphology of the cloud cover from these images and their relationship to the Y features seen prominently in Earth-based images has been presented by Dollfus (1975). Most of the features identified in the Mariner 10 images during its short coverage were also seen in the longer duration of the Pioneer Venus Orbiter, and the morphology was presented by Rossow et al. (1980). PVO also obtained 25–40 km per pixel images (365-nm global images with a few limb images at 365 and 690 nm) and polarization data (~ 100 km per pixel) in reflected sunlight at four wavelengths (270, 365, 550 and 935 nm) from a spinning spacecraft and using the orbital motion of the spacecraft (Travis et al. 1979). The Venera 9 and 10 orbiters also obtained 17 images covering a limited portion of the Sun-lit planet during October 26, 1975–December 25, 1975, using the motion of the orbiters with a 512 element linear photometer array with 30° wide field of view at the violet and ultraviolet wavelengths (Keldysh 1977). The polarization mode intensity images showed morphology of the cloud cover to be similar at 270 and 365 nm in unpolarized light, but also showed features in polarization data at the two longer wavelengths (Limaye 1984) which were similar to those seen in the intensity images.
The orbiter infrared radiometer (OIR), a six-filter instrument on PVO, also yielded thermal infrared views of the northern hemisphere cloud tops at 10.6–12.6 µm for about 2 months (Taylor et al. 1980; Apt et al. 1980), but little small-scale detail was seen in the images constructed from these data. Later the Galileo orbiter took 77 images of Venus in reflected light from the solid-state imaging (SSI) camera (Belton et al. 1991) during its Venus gravity-assisted flyby over a very short period (2.5 days) in February 1990 at two different wavelengths in reflected light (418 and 986 nm effective wavelengths). The SSI images at 418 nm showed morphologies to be similar to the Mariner 10 (Murray et al. 1974) and Pioneer Venus observations (Rossow et al. 1980); however, at 986 nm some differences in morphology were seen (north–south linear patterns straddling the equator). The Venus Monitoring Camera (VMC, Markiewicz 2007) on the Venus Express Orbiter (Svedhem et al. 2007) imaged Venus at 365, 513, 950 and 1010 nm, and the cloud morphology has been presented by Titov et al. (2008, 2012). Dayside images of limited portions of Venus were also obtained by the VIRTIS instrument between 280 and 1000 nm with 6 nm spacing, but the internal scattering within the instrument impacted the data by reducing contrasts. Prior to Akatsuki's arrival at Venus, the MESSENGER spacecraft also imaged Venus from its wide- and narrow-angle cameras in June 2007, providing more than two hundred images of Venus from the wide-angle camera at twelve wavelengths over about 2 days. Unfortunately the VMC instrument could not acquire good "in-orbit" additional flat fields to remove the image defects (Titov et al. 2012) during this period, so a comparison of VMC and MESSENGER concurrent images is not useful.
Nightside images of Venus in near infrared
First nightside images at near-infrared wavelengths of Venus showed surprising structures in Earth-based telescope observations (Allen and Crawford
1984
). Galileo was the first spacecraft to map Venus between 0.7 and 5.2 µm from the near-infrared mapping spectrometer (NIMS) using the spacecraft spin and motion (Carlson et al.
1991
). The mapping channel of the visible infrared thermal imaging spectrometer (VIRTIS) also on Venus Express imaged the planet between 0.28 and 5.0 µm during April 15, 2006–November 27, 2014 (Piccioni et al.
2007a
), and provided the widest spectral coverage of the southern polar hemisphere of Venus at low spatial resolution and limited coverage of the low southern and equatorial northern latitudes at higher spatial resolution (as high as a few hundred meters at periapsis). Both VMC and VIRTIS predominantly provided a polar view of the Venus cloud cover at ~ 25–45 km per pixel size and more detailed views of the equatorial and northern latitudes at a spatial scale of as high as 1–2 km per pixel. The near-infrared data from VIRTIS showed details of the polar regions of Venus not readily accessible to Akatsuki. On the nightside of Venus, VIRTIS data revealed cloud contrasts in thermal emission from the cloud layer (Peralta et al.
2017
) and also revealed cloud layer opacity variations above the lower clouds which are back-illuminated by emitted radiation from the warmer atmosphere below the cloud layer and the surface (Hueso et al.
2012
). VIRTIS also revealed the intricacies of the inner region of the (southern) hemispheric vortex circulation (Garate-Lopez et al.
2015
; Luz et al.
2011
) which supplement the reflected light views that revealed the vortex from space–time composites of Mariner 10 dayside images (Suomi and Limaye
1978
) and Galileo (Peralta et al.
2007
). It is useful to note that on Earth, cloud morphologies look very similar from the blue to thermal infrared wavelengths (Fig.
1
), unlike on Venus (Fig.
2
). Images taken from the Himawari satellite at sixteen different wavelengths between 410 nm and 15 µm are shown in Fig.
1
, while similar wavelength coverage for Venus is shown in Fig.
2
from recent missions. Unlike the Earth images which are concurrent, we have only limited concurrent coverage over the same spectral range from the MESSENGER flyby data which are supplemented by Galileo and Akatsuki for illustrative purposes. The MESSENGER images are taken from the MDIS wide-angle camera (Hawkins et al.
2009
; Robinson et al.
2007
) with narrow-band filters (10 nm), comparable to the band pass of the Akatsuki images at 283 and 365 nm (Table
1
).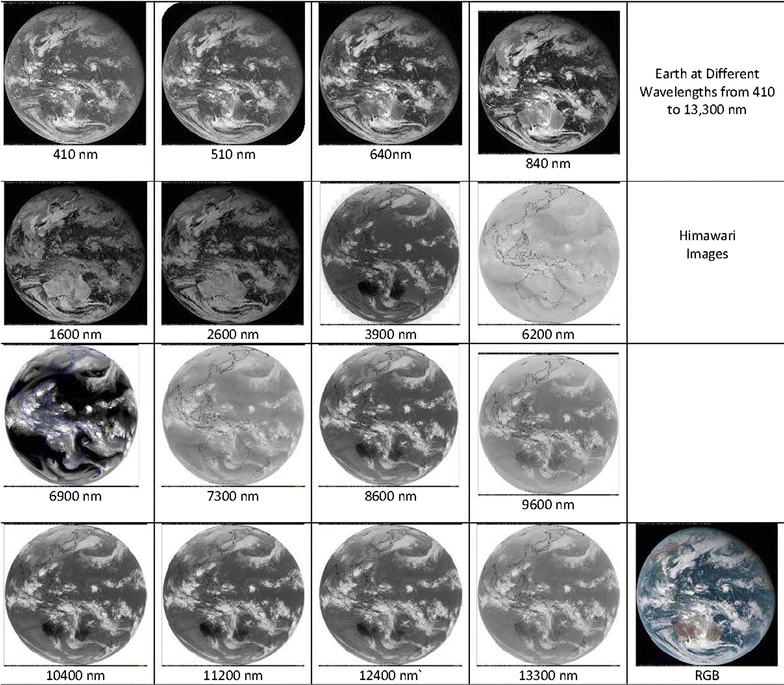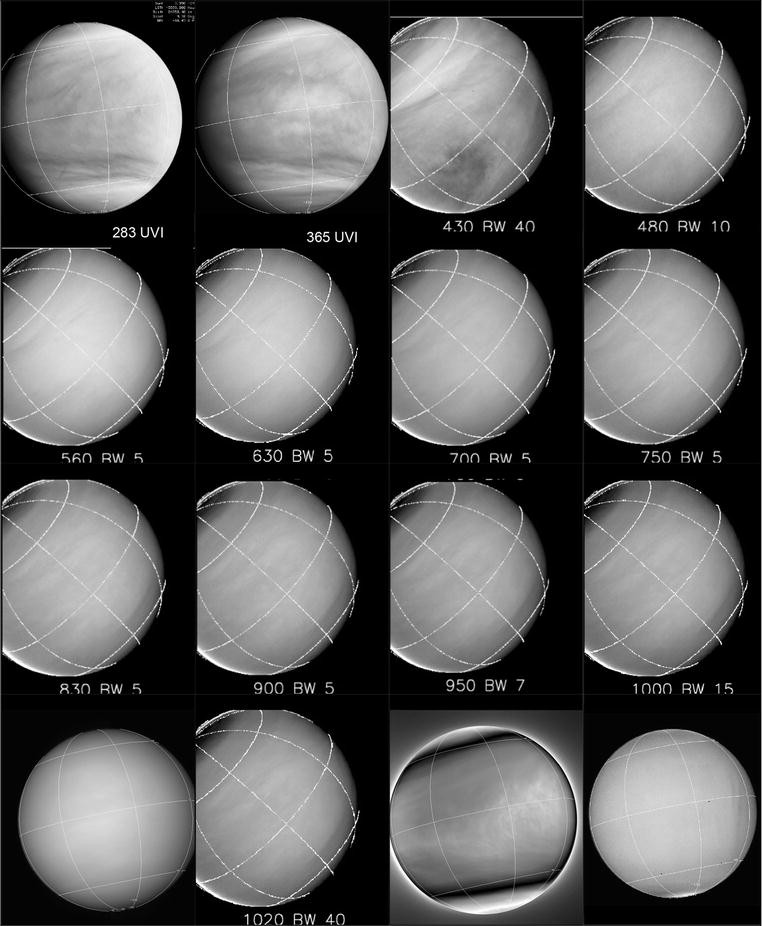 Table 1
Characteristics of cameras on Akatsuki orbiter
Camera

Channel name

Band center (μm)

Bandwidth (micron)

Transmittance

Pixel size (mm)

# Lines

# Samples

Focal length (mm)

Day/night

IR1

090d

0.900

0.00910

0.0027

0.017

1024

1024

84.2

Day

090n

0.898

0.02890

0.74

0.017

1024

1024

84.2

Night

097

0.969

0.03860

0.78

0.017

1024

1024

84.2

Night

101

1.009

0.03910

0.75

0.017

1024

1024

84.2

Night

IR2

174

1.735

0.041

0.85

0.017

1024

1024

85.41

Night

226

2.26

0.052

0.67

0.017

1024

1024

85.44

Night

232

2.32

0.036

0.67

0.017

1024

1024

85.41

Night

202

2.02

0.039

0.06

0.017

1024

1024

85.50

Day

165

1.65

0.283

0.93

0.034

520

520

85.35

–

UVI

283

0.283

0.014

0.280

0.013

1024

1024

63.3

Day

365

0.365

0.014

0.509

0.013

1024

1024

63.3

Day

LIR

10.00

4.00

–

0.037

328

248

42.2

Day and night
The difference between the wavelength similarity in the appearance of Earth and for Venus is striking. The differences are not due to the vertical extent of the clouds but due to different origins and chemical composition of the clouds on Earth and Venus. Venus clouds are complex as we have discovered. The ultraviolet contrasts were first discovered more than a century ago (Ross 1928), and the suggestion that the clouds were made of droplets containing sulfuric acid solutions (Young 1973) was confirmed more than 4 decades ago (Hansen and Hovenier 1974). But, we still do not know the species which are responsible for the dayside contrasts seen in the dayside cloud cover, except that sulfur dioxide gas is one of them and there is at least one other absorber which is as yet unknown (Travis 1975). Morphologies provide a good diagnostic tool for relating the atmospheric processes involved with the sources and sinks of the aerosols, condensates and trace gases. Chemical models developed for the Venus atmosphere include more than forty species and involve more than a hundred reactions (Krasnopolsky 2007; Mills and Allen 2007; Mills et al. 2007) which are dependent on ambient conditions, further complicating analysis and interpretation in light of incomplete data and information. Venera and VeGa landers, four Pioneer Venus probes and two VeGa balloons have sampled the clouds below 62 km and obtained useful measurements, but these are proving to be insufficient for understanding the Venus clouds.
The Akatsuki camera observations are providing high-quality global images of Venus at multiple wavelengths from an equatorial perspective of both north and south hemispheres, enabling a study of the global morphologies and shedding new light on the clouds of Venus. The Akatsuki orbiter's cameras are now imaging Venus at thirteen wavelengths from 283 nm to 10 µm. These images provide global views of the day- and nightside of Venus at spatial scales from ~ 70 km to as high as 0.2 km per pixel. Concerning global cloud morphology, Akatsuki provides the best global views of Venus from a near-equatorial perspective at several wavelengths to date—283, 365, 900, 2020 nm on the dayside and at 0.97, 1.01, 1.74, 2.26 and 2.32 µm on the nightside, while the LIR camera provides day- and nightside views of Venus at the thermal wavelengths.
The altitudes of the features seen in day- and nightside images are not known with certainty. From analysis of PVO polarization data, the aerosol unit optical depth is at about 28 mb or at about 71 km in equatorial regions and at about 40 mb (~ 68 km) in polar regions (Kawabata et al. 1980). From the analysis of 1.6-µm VIRTIS data, Ignatiev et al. (2009) found the cloud tops located at 74 ± 1 km in low and midlatitudes and at 63–69 km poleward of ± 50° latitude. Tracking clouds and matching their zonal speeds to entry probe zonal wind from Pioneer Venus probes or cyclostrophic wind from thermal structure data have often been invoked to estimate the vertical level of the features (Belton et al. 1991; Hueso et al. 2015; Limaye 1985). Using a cloud model, Takagi and Iwagami (2011) have explored the causes for contrasts in the images acquired by IR1 and IR2 Akatsuki cameras in near infrared at 0.9 and 2.02 µm on the dayside and at 2.26 µm on the nightside. They concluded that the dayside 0.9 µm contrasts are due to variations of the cloud optical thickness as is also the case for the nightside 2.26 µm contrasts. They suggest that 2.02 µm contrasts depend on not only the cloud altitude, but also the cloud optical thickness. They also suggest that although Belton et al. (1991) inferred that dayside 0.986 µm contrasts correspond to about 55 km using the vertical wind shear, the contrasts could be located anywhere in the cloud from 48 to 70 km. Similarly, although Carlson et al. (1991) attribute the 2.3 µm contrasts to 50 km, Takagi and Iwagami (2011) suggest that the contrasts may be located anywhere in the mid- or upper cloud region. Hueso et al. (2015) attribute the cloud patterns between 0.3 and 1 µm to altitudes between 60 and 72 km and their near-infrared cloud motion measurements match those from the Pioneer Venus probe and VeGa balloon derived winds at altitudes between 56 and 62 km, differing from the 58–64 km level derived by (Sánchez-Lavega et al. 2008) from radiative calculations. It is quite possible that these discrepancies are due to temporal and local time variations or from the global variations in the cloud structure (as indicated by the Akatsuki nightside images) that can be at odds with cloud models deployed to infer the altitudes.
The morphological information at multiple wavelengths enabled by the Akatsuki cameras presented here provides new constraints on the evolution and origins of the contrasts—both absorbers of incident solar radiation responsible for dayside patterns and local variations in cloud opacity and thermal contrasts responsible for the nightside patterns. We describe below the global morphology of the dayside cloud cover of the cloud-top region and present the nighttime morphology of the cloud features in the mid- and lower levels of the cloud cover.
Akatsuki multispectral images of Venus: cameras onboard
There are five cameras on Akatsuki to image Venus at the ultraviolet to thermal infrared wavelengths—UVI [Yamazaki et al., submitted to EPS, Akatsuki special issue], IR1 (Iwagami et al. 2018, submitted to EPS Akatsuki special issue), IR2 (Satoh et al. 2016), LIR (Fukuhara et al. 2011, 2017b) and the Lightning and Airglow Camera (LAC) which does not produce an image (Takahashi et al. 2008), and is used when the nightside of Venus is visible to Akatsuki to detect lightening and airglow. Table 1 provides the characteristics of the four imaging cameras. The 1.65-µm filter in the IR2 camera was used for zodiacal imaging during cruise and is not used to image Venus and hence is listed in this table for completeness only. The focal lengths are nominal values for IR1, UVI and LIR cameras and have been updated from star fields during the mission for the IR2 camera. Updates are expected for the other cameras. During the long interval between the first attempt in December 2010 and the successful orbital insertion in December 2015, Akatsuki came much closer to the Sun than anticipated with 11 perihelion passages. Thus, the camera performance was somewhat affected, particularly for the IR1 camera, requiring new procedures for data calibration.
Generally, when the Akatsuki orbiter predominantly views the night hemisphere of Venus from its position in its orbit, the UVI camera is not used, and only the IR1 and IR2 cameras image the nightside of Venus. The two 0.9-µm filters (09d and 09n) on the IR1 camera have different band passes (Table 1) to enable imaging of the day- and nightsides due to the differences in the reflected and emitted radiation. The LIR camera images Venus throughout the orbit—day and night—as it senses radiation emitted to space by the planet from the cloud tops. Dayside images are taken at 283 and 365 nm (UVI) wavelengths as well as at 0.9 µm (IR1) and 2.02 µm (IR2). Instrumental constraints prevent concurrent images from different filters from the same camera, but the time interval is relatively short (about 214 s for UVI) which provides near simultaneous imaging at different wavelengths except at close approach to Venus. The performance of the four cameras during the first year of operations in orbit is presented in this special issue by Iwagami et al. (IR1), Satoh et al. (2017) for the IR2, Yamazaki et al. (UVI) and Fukuhara et al. (2017b) for the LIR camera. An electronics problem with a unit in late 2016 has affected the operation of the IR1 and IR2 cameras, and while efforts continue to address this problem, the cameras have not sent back any data since the anomaly.
Temporal coverage
Four hours after the Venus orbit insertion (VOI), the IR1, UVI and LIR cameras took Venus images. Only IR2 needed to be cooled down for 10 days and took the "first light" images after a long hibernation period in January 2016. Systematic data collection began on April 1, 2016, from its near-equatorial orbit with a periapsis altitude of ~ 1000 km and a 10.5-day period and an eccentricity of about 0.92 (Fig.
3
a). A schematic diagram of the Akatsuki orbit around Venus is shown in Fig.
3
b for three of its orbits to illustrate when Akatsuki observes the day or the nightside of the planet. Routine imaging from all four cameras has been performed on every orbit except during solar conjunctions when communications are interrupted between Akatsuki and the Usuda DSN. One advantage of the longer orbit is that it is possible to monitor the cloud patterns with fewer gaps as Akatsuki observes Venus' day and night hemispheres continuously from similar vantage points for longer duration as compared to the 24-h eccentric polar orbit of Venus Express.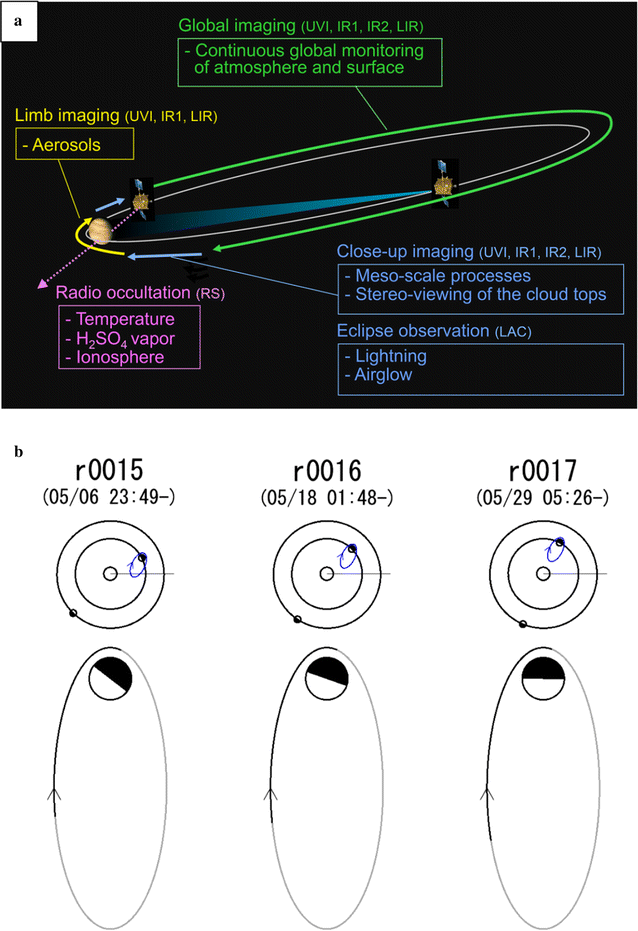 In November 2016, a technical problem prevented imaging from the IR1 and IR2 cameras which share some electronics, and currently, those two cameras are not returning any data. The cadence of most of the images from the UVI, IR1 and IR2 cameras is 2 h, but some images have been acquired 1 h apart. Generally, the UVI camera makes three exposures for one "image" which takes 210 s and a median filter is applied onboard to reduce the dark noise. At close approach to Venus, the median filter step is skipped and images can be acquired more quickly (150 s apart). The LIR camera can image Venus far more rapidly than other cameras—every 5 s. Onboard storage constraints, data communication rates and instrument operations limit the sampling interval and total number of images from the UVI, IR1 and IR2 cameras. Different data acquisition modes have been developed to account for the data communication rates due to Earth–Venus range. The LIR camera takes more frequent images, but the data volume is smaller due to the smaller size of its detector. The total number of images returned from Akatsuki is thus somewhat less than the number of images returned from VMC and provides global views of the planet as compared to the mostly near-polar perspective views imaged near the apoapsis portion of the Venus Express orbit when the day and night hemispheres were contained in a single VMC frame.
Table
2
provides a list of the images used in this paper along with some geometry information—range of the Akatsuki orbiter from Venus, the spacecraft sub-point latitude and longitude, the sub-solar latitude and longitude, the azimuth angle of the Venus north pole and the pixel size at the sub-spacecraft location (km).
Table 2
Geometry information for the Venus images
Figure #

ID

IMAGE

Orbit

Range (km)

SubLat

SubLon

SunLat

SunLon

NP AZM

Venus size (°)

PixSiz (km)

2

a

uvi_20160425_171339_283

13

84758.4

2.9

235.8

2.0

213.9

− 98.5

4.2

17.4

b

uvi_20160425_191715_365

13

66,816.1

4.1

230.3

2.0

214.2

− 98.2

5.3

13.7

4

a

uvi_20160425_171339_283

13

84,758.4

2.9

235.8

2.0

213.9

− 98.5

4.2

17.4

b

uvi_20160425_171716_365

13

84,264.8

2.9

235.7

2.0

213.9

− 98.5

4.2

17.3

c

uvi_20160506_181341_283

14

69,448.1

4.7

240.6

1.4

247.8

− 101.1

5.1

14.3

d

uvi_20160506_181716_365

14

68,919.6

4.8

240.4

1.4

247.8

− 101.1

5.1

14.2

e

uvi_20161120_132347_283

32

68,174.9

12.2

178.9

2.5

138.1

− 95.0

5.2

14.0

f

uvi_20161120_132721_365

32

67,616.8

12.2

178.8

2.5

138.1

− 95.0

5.2

13.9

5

a

uvi_20161223_101110_283

35

71,763.7

12.9

210.8

1.0

239.1

69.1

4.9

14.7

b

uvi_20161223_101445_365

35

71,263.3

13.0

210.6

1.0

239.1

69.1

5.0

14.6

c

uvi_20170104_060111_283

37

101,196.7

− 13.2

318.7

0.1

275.5

84.1

3.5

20.8

d

uvi_20170104_060444_365

37

101,603.2

− 13.1

318.6

0.1

275.5

84.1

3.5

20.9

e

uvi_20170114_170111_283

37

74,801.2

13.8

241.0

− 0.6

307.9

76.8

4.7

15.4

f

uvi_20170114_170446_365

37

74,313.7

13.9

240.7

− 0.6

307.9

76.8

4.7

15.3

6

a

uvi_20170115_083111_283

38

93,172.9

− 13.6

334.6

− 0.7

309.8

83.2

3.8

19.1

b

uvi_20170115_083445_365

38

93,604.5

− 13.6

334.5

− 0.7

309.9

83.2

3.8

19.2

c

uvi_20170121_103110_283

38

368,626.1

0.3

297.5

− 1.1

328.7

89.8

1.0

75.7

d

uvi_20170121_103443_365

38

368,592.1

0.3

297.5

− 1.1

328.7

89.8

1.0

75.7

e

uvi_20161223_141058_283

35

33,943.9

17.8

177.1

1.0

239.6

80.4

10.4

7.0

f

uvi_20161223_141334_365

35

33,484.6

17.9

176.3

1.0

239.6

80.4

10.6

6.9

7

a

ir1_20160425_170207_09d

13

86,321.4

2.8

236.2

2.0

213.9

− 98.5

4.1

17.4

c

ir1_20160506_180208_09d

14

71,138.0

4.6

241.3

1.4

247.8

− 101.2

5.0

14.4

e

ir1_20160517_200207_09d

15

68,970.5

5.9

250.1

0.6

282.0

− 97.4

5.1

13.9

8

a

ir2_20160506_180824_202

14

70,223.6

4.7

241.0

1.4

247.8

− 101.9

5.0

14.2

c

ir2_20160517_080822_202

15

148,368.0

1.7

271.4

0.7

280.4

− 99.8

2.4

30.0

e

ir2_20160621_220821_202

19

228,037.7

− 7.5

6.3

− 1.8

30.5

− 86.8

1.5

46.0

9

a

ir1_20160916_012708_09d

27

18,272.0

− 3.6

273.5

0.1

297.2

− 74.2

19.7

3.7

b

ir1_20161019_054807_09d

29

10,716.3

10.1

5.1

2.2

39.1

− 73.7

35.0

2.2

c

uvi_20160927_044558_365

28

16,466.9

− 1.0

300.1

0.9

331.5

− 73.5

21.9

3.4

d

uvi_20160927_045753_365

28

17,158.5

− 5.1

286.0

0.9

331.5

− 75.5

21.0

3.5

e

ir1_20160506_220208_09d

14

30,485.4

9.6

209.2

1.4

248.3

− 97.1

11.6

6.2

f

ir1_20160303_212359_09d

9

11,631.3

2.3

358.6

1.9

51.9

− 82.8

31.9

2.3

10

a

ir2_20160506_220822_202

14

29,238.3

9.9

207.0

1.4

248.3

− 97.8

12.1

5.9

c

ir2_20160824_203242_202

25

22,522.3

− 15.0

185.8

− 1.5

228.8

− 81.0

15.8

4.5

e

ir2_20161008_062241_202

28

13,552.0

6.1

339.1

1.6

5.4

− 65.3

27.0

2.7

Row, Col

11

1,1

uvi_20160425_171339_283

13

84,758.4

2.9

235.8

2.0

213.9

− 98.5

4.2

17.4

1,2

uvi_20160425_171339_283

13

84,758.4

2.9

235.8

2.0

213.9

− 98.5

4.2

17.4

1,3

ir1_20160425_170207_09d

13

86,321.4

2.8

236.2

2.0

213.9

− 98.5

4.1

17.4

1,4

ir2_20160425_170821_202

13

85,478.7

2.8

236.0

2.0

213.9

− 99.2

4.1

17.3

2,1

uvi_20160506_181341_283

14

69,448.1

4.7

240.6

1.4

247.8

− 101.1

5.1

14.3

2,2

uvi_20160506_181716_365

14

68,919.6

4.8

240.4

1.4

247.8

− 101.1

5.1

14.2

2,3

ir1_20160506_180208_09d

14

71,138.0

4.6

241.3

1.4

247.8

− 101.2

5.0

14.4

2,4

ir2_20160506_180824_202

14

70,223.6

4.7

241.0

1.4

247.8

− 101.9

5.0

14.2

3,1

uvi_20160517_201339_283

15

67,313.8

6.1

249.3

0.6

282.0

− 97.3

5.2

13.8

3,2

uvi_20160517_201715_365

15

66,792.8

6.1

249.0

0.6

282.0

− 97.3

5.3

13.7

3,3

ir1_20160517_200207_09d

15

68,970.5

5.9

250.1

0.6

282.0

− 97.4

5.1

13.9

3,4

ir2_20160517_200822_202

15

68,075.0

6.0

249.6

0.6

282.0

− 98.1

5.2

13.7

uvi_20160506_221340_283

14

28,171.4

10.1

205.0

1.4

248.4

− 97.0

12.6

5.8

12

uvi_20160506_221716_365

14

27,443.6

10.2

203.6

1.4

248.4

− 97.1

12.9

5.6

ir2_20160506_220823_202

14

29,235.0

9.9

207.0

1.4

248.3

− 97.8

12.1

5.9

13

a

ir2_20160325_073211_174

11

109,374.9

− 9.1

246.0

2.6

117.6

− 91.1

3.2

22.1

b

ir2_20160325_073333_226

11

109,535.9

− 9.1

246.0

2.6

117.6

− 91.1

3.2

22.1

c

ir2_20160325_074039_232

11

110,369.4

− 9.1

245.9

2.6

117.6

− 91.1

3.2

22.3

d

ir2_20160507_040211_174

15

56,594.8

− 11.2

339.5

1.4

249.1

− 93.9

6.2

11.4

e

ir2_20160507_040333_226

15

56,816.2

− 11.2

339.4

1.4

249.1

− 93.9

6.2

11.5

f

ir2_20160507_041036_232

15

57,952.3

− 11.2

338.7

1.4

249.1

− 93.9

6.1

11.7

g

ir2_20160712_020212_174

20

71,695.2

8.0

347.1

− 2.6

93.1

− 91.8

4.9

14.5

h

ir2_20160712_020333_226

20

71,489.0

8.1

347.0

− 2.6

93.1

− 91.8

4.9

14.4

i

ir2_20160712_021127_232

20

70,275.8

8.2

346.7

− 2.6

93.1

− 91.8

5.0

14.2

j

ir2_20160904_170212_174

25

57,016.7

11.5

42.3

− 0.7

262.3

− 105.1

6.2

11.5

k

ir2_20160904_180128_226

25

47,590.3

12.7

34.8

− 0.7

262.4

− 104.0

7.4

9.6

l

ir2_20160904_171123_232

25

55,595.2

11.6

41.3

− 0.7

262.3

− 105.1

6.4

11.2

14

a

ir2_20160905_033211_174

26

70,896.3

− 13.9

153.7

− 0.7

263.6

− 93.3

5.0

14.3

b

ir2_20160905_033333_226

26

71,087.9

− 13.9

153.6

− 0.7

263.7

− 93.3

5.0

14.4

c

ir2_20160905_034120_232

26

72,174.1

− 13.8

153.1

− 0.7

263.7

− 93.3

4.9

14.6

d

ir2_20160927_090209_174

28

56,626.7

− 15.6

191.8

0.9

332.0

− 95.7

6.2

11.4

e

ir2_20160927_090331_226

28

56,837.6

− 15.6

191.6

0.9

332.0

− 95.7

6.2

11.5

f

ir2_20160927_091120_232

28

58,038.0

− 15.5

190.8

0.9

332.0

− 95.7

6.1

11.7

g

ir2_20161008_090056_174

29

38,632.6

− 18.1

215.7

1.6

5.7

− 108.3

9.2

7.8

h

ir2_20161008_090127_226

29

38,728.2

− 18.1

215.6

1.6

5.8

− 108.3

9.1

7.8

i

IRTF Cont_K April 27

–

61387346.

− 3.1

26.0

− 0.1

263.4

337.2

20.6

34.5

j

ir2_20161030_080211_174

31

66,851.7

− 15.8

215.0

2.5

73.0

− 94.9

5.3

13.5

k

ir2_20161030_080333_226

31

67,066.9

− 15.8

214.9

2.5

73.0

− 94.9

5.3

13.5

l

IRTF Cont_K April 28

–

63417688.

− 2.8

29.8

0.1

269.6

337.2

19.9

35.7

15, 16

ir2_20160415_080211_174

13

66,540.4

− 10.8

289.1

2.4

182.0

− 92.1

5.3

13.4

ir2_20160415_080333_226

13

66,757.9

− 10.7

289.0

2.4

182.0

− 92.1

5.3

13.5

ir2_20160415_081039_232

13

67,881.7

− 10.7

288.7

2.4

182.0

− 92.1

5.2

13.7

17

ir2_20161019_143211_174

30

95,667.9

− 13.2

195.3

2.2

40.2

− 99.0

3.7

19.3

ir2_20161019_143332_226

30

95,837.9

− 13.1

195.2

2.2

40.2

− 99.0

3.7

19.3

ir2_20161019_144120_232

30

96,816.5

− 13.1

195.0

2.2

40.2

− 99.0

3.6

19.5

18

ir2_20160927_110209_174

28

74,082.1

− 14.3

181.8

0.9

332.3

− 98.3

4.8

15.0

ir2_20160927_110331_226

28

74,269.7

− 14.3

181.7

0.9

332.3

− 98.3

4.7

15.0

ir2_20160927_111119_232

28

75,335.6

− 14.2

181.2

0.9

332.3

− 98.3

4.7

15.2

19

a

lir_20160723_073128_pic

22

63,970.5

− 14.3

70.6

− 2.6

128.0

− 83.4

5.5

56.1

b

lir_20160506_182053_pic

14

68,384.1

4.8

240.2

1.4

247.9

− 101.2

5.2

60.0

20

a

uvi_20160515_171715_365

15

289,143.0

− 1.7

285.7

0.8

275.4

− 99.5

1.2

59.4

uvi_20160517_201715_365

15

66,792.8

6.1

249.0

0.6

282.0

− 97.3

5.3

13.7

b

ir2_20160506_180824_202

14

70,223.6

4.7

241.0

1.4

247.8

− 101.9

5.0

14.2

c

lir_20160926_231748_pic

27

65,802.1

12.1

77.6

0.9

330.7

− 102.0

5.4

13.3

lir_20160825_001606_pic

27

61,534.8

− 14.4

137.1

− 1.5

229.3

− 90.9

5.7

12.4
Dayside morphology
Unlike on Earth where the clouds seen in reflected light are visible because of light scattering, the contrast features on Venus are seen due to absorption and scattering. By cloud morphology, we refer here to the patterns of these contrast features. Below we present the global cloud-top morphology from dayside equatorial views at 283 and 365 nm (UVI) and at 0.9 (IR1) and 2.02 µm (IR2). Most of the global images were obtained at about 15–20 km/pixel scale (Table 2) at the sub-spacecraft point, while two are at much lower resolution (~ 75 km/pixel). As the contrast on finer spatial scales (~ 5–10 km) is markedly different, we also present some samples of higher-resolution images at all wavelengths to compare with some earlier observations. Venus was previously imaged at high spatial resolution from Mariner 10 and Venus Express VMC and VIRTIS, and now, Akatsuki also provides views at 0.9 and 2.02 µm with spatial scale of ~ 2 km per pixel.
Nightside morphology
On the nightside, the IR2 and LIR cameras of Akatsuki probe different depths of the Venus cloud layer as compared to the dayside images. The LIR camera (8–12 µm) probes the 65 km level and provides cloud-top temperature variations over the planet on day and night hemispheres.
At 1.74, 2.26 and 2.32 µm wavelengths, the features seen in the images can be understood as being back-lit silhouettes illuminated by the radiation emitted from the increasingly warmer atmosphere below the clouds. The dayside features are due to differences in either the amount of absorbers and/or cloud altitudes and inform us about the cloud-top region, while on the nightside, the features are due to the spatial variations in the emitted radiation from the atmosphere below the clouds as it gets attenuated by the cloud opacity in the atmospheric windows at 1.74, 2.26 and 2.32 µm (Wilson et al. 2009). Thus, the features do not necessarily reflect a fixed level in the cloud layer. This is analogous to the appearances of Jupiter (Orton et al. 1991) and Saturn at 5 µm (Orton and Yanamandra-Fisher 2005). It can be expected that the morphologies seen in the IR2 and LIR images will be somewhat different. We describe the nightside morphology from IR2 images first and then the LIR images next.
Summary
The four imaging cameras on Akatsuki are revealing the dynamic evolution of the cloud features at the uppermost level of the clouds on the dayside and at deeper levels on the nightside. The appearance of Venus in the near-infrared wavelengths is very different from its dayside appearance, suggesting some vertical differences in the cloud properties. On the nightside, the morphologies of the deeper features appear disconnected from those seen on the dayside at the cloud tops. Whether these differences are related to local time variations or due to the layered nature of the clouds (Knollenberg and Hunten 1980) is not known. The nightside images show new features on the nightside, including curved features, suggesting generation of local vorticity which is very puzzling. The diversity of features seen in the mid- to lower clouds suggests a mixture of unknown dynamics as well as compositional differences that must be responsible for the differences in the appearance of the features. There also appears to be a subtle wavelength dependence of contrasts on spatial scale. The impression is that while on the dayside, the features seen from 283 nm to 2.02 µm are somewhat similar, the contrast magnitudes and spatial scales are different.
The cloud patterns at 365 nm seen in the Akatsuki images are similar to those seen from previous missions. The 283-nm images show features similar to those at 365 nm much of the time with lower contrasts, but occasionally show some different patterns. The longer wavelength images taken on the dayside show patterns resembling those observed at shorter wavelengths, but the details are very much muted. On the nightside, Akatsuki observations from the IR2 camera reveal new aspects of the cloud structure not seen in VIRTIS images—mesoscale vortices, long ribbons or waves of widths from 200 to 500 km with varying wavelengths of 800 to 1200 km or longer. Surprisingly, many wispy or string-like features similar to cirrus clouds on Earth are also seen on the nightside at low and midlatitudes which correspond to low opacity regions, indicating higher radiances from the atmosphere due to warmer temperatures. It is a mystery as to how such features develop.
There is considerable uncertainty in the level at which the features seen in the IR2 nightside images can be attributed from different studies (Barstow et al. 2012; Hueso et al. 2015), but generally it is believed that the level is somewhere between the base of the clouds and at least a scale height below the cloud tops and perhaps at 54 km, close to the level at which the VeGa 1 and VeGa 2 balloons traveled from midnight to somewhat beyond the morning terminator (Sagdeev et al. 1990) near the equator. Intermittent, periodic tracking by the very long baseline interferometry (VLBI) of the two balloons show a very zonal trajectory, devoid of significant meridional motions. The puzzle is to reconcile their relatively smooth zonal motion with the dynamics, as suggested by the morphologies seen in nighttime IR2 images—the VeGa balloons moved fairly smoothly and zonally at about 6.5° away from the equator in the north and south hemispheres over most of their 48-h trajectory, yet the IR2 nightside images show a rather chaotic, dynamical situation. The VeGa balloons did at times experience some large vertical accelerations (Blamont et al. 1986), and some were later found to be correlated with topography (Young et al. 1987), while convective overturning is also a possible cause. The standing gravity waves seen in LIR and UVI (283-nm) images are absent on the nightside. At the thermal wavelengths, standing waves and the core region of the vortices situated over the northern and southern poles are the most prominent features. Global brightness temperature contrasts are low (< ~ 5 K). Analysis of the Akatsuki data from all cameras is continuing, and these and future investigations should give us a better idea of the variety of different processes occurring in the atmosphere of Venus on both the day and night sides.
Our main conclusions are:
The vertical structure of the deep Venus clouds is complex and we do not know the precise altitude of the contrasts on the day- or nightsides. From remote sensing, we are limited to sampling the cloud-top region on the dayside and the deeper levels below the cloud tops on the nightside. Differences between the short and long wavelengths on the dayside attest to the presence of some larger particles near the cloud tops where discrete features can be seen in the longer wavelengths. The morphologies seen on day and night hemispheres are very different. It is not possible to know whether these vertical structure differences are due to local time effects or a global pattern, unlike the terrestrial occurrence. On Earth, clouds form due to phase change effects, whereas on Venus the clouds exist due to complex chemistry involving trace species. These differences are rooted in the differing makeup of the clouds on the two planets.
It is not well understood why the contrasts peak at 365 nm on the dayside and near 2.3 µm on the nightside. This spectral range is within the gap between the CO2, water vapor and other gaseous absorption peaks. Composition of the cloud particles, however, is not very well known, including their nature other than containing varying concentrations of sulfuric acid—particulate, microorganisms and shape. Photochemistry, ambient temperatures and/or dynamics may all be responsible for the appearance of Venus at these wavelengths in particular.
The boundaries between bright and dark regions from pole to pole as seen at different wavelengths do not appear to be at the same latitudes. For example, there is a clear boundary in the morphology patterns at midlatitudes at all wavelengths except at the thermal infrared (8–12 µm) where the boundary is between 60° and 70° latitude. The LIR data indicate brightness temperature changes across latitudes of no more than 10–15 K, and the 2.02-µm images do reveal some altitude differences due to different CO2 absorption at polar latitudes.
Regional dynamics must be involved in creating variations in trace gas abundances, which must control the cloud opacity and reflectivity variations. How these variations come about cannot be determined due to little information about their sources as most trace species are affected by cloud composition. The differences in the day- and nightside reaction rates of the numerous possible chemical reactions in the cloud layer may be somehow responsible.
In order to understand the wavelength differences in the appearance of Venus, we need more information and a better understanding of the role of trace species, condensation nuclei and cloud chemistry under the environmental conditions in the cloud layers as well as knowing the nature of the aerosols—organic or inorganic. To obtain these measurements, instrumented mobile platforms capable of sampling different regions of the Venus cloud layer over day and night are needed. Longer period coverage of the night hemisphere of Venus between 1.74 and 2.3 µm is essential in this respect. While most of the global cloud cover modeling studies based on the reference model (Kliore et al. 1985) appear to explain many of the previously observed features (Barstow et al. 2012; Haus et al. 2017; Lee et al. 2016), the nightside images suggest noticeable horizontal differences in the cloud structure. Insufficient data for many of the observed new features are a serious problem for understanding their origins, and new observations are very much needed. Indeed, it would be very welcome to have near continuous coverage of the day and night hemispheres of Venus in selected wavelengths from new missions.
The Akatsuki orbiter continues to function normally, and along with the UVI, LIR, LAC and radio occultations are collecting data. The IR1 and IR2 team are continuing efforts to restore data collection. The nominal mission will last until December 2018, and a proposal to extend the funding to continue mission operations for an additional 3 years is pending with JAXA.
Abbreviations
CEB:

circum equatorial belt
IR1:

infrared (1 µm) camera on Akatsuki
IR2:

infrared (2 µm) camera on Akatsuki
IRTF:

Infrared Telescope Facility on Mauna Kea, Hawaii
LAC:

Lightning and Airglow Camera on Akatsuki spacecraft
LIR:

long-wave infrared imager on Akatsuki spacecraft
MDIS:

mercury dual imaging system on MESSENGER spacecraft
NASA:

National Aeronautics and Space Administration
nm:

nano meter
OIR:

Orbiter Infrared Radiometer on Pioneer Venus Orbiter
PVO:

Pioneer Venus Orbiter
SSI:

solid-state imaging camera on Galileo spacecraft
UVI:

ultraviolet imager
VIRTIS:

visible infrared thermal imaging spectrometer on Venus Express
VMC:

Venus Monitoring Camera on Venus Express
VOI:

Venus orbit insertion
Declarations
Authors' contributions
Drs. SW, AY, TS, NI, MT and TF have been responsible for camera development, calibration and observations, while Prof. Nakamura has been shepherding the Akatsuki mission and operations. Dr. TMS, MY, MS, NH, KS and HA have been involved in instrument calibration and spacecraft operations. Dr. TA has guided the technical aspects of Akatsuki Project. Prof. MY contributed to Venus atmospheric dynamics. Dr. YY, SO, KS, MS, NH and ST have been involved in instrument calibration and operations. Drs. YJL and JP contributed to the interpretation of the data and further image processing for some of the figures. Dr. SM has been responsible for pipeline data processing operations. Drs. Nishii and CH have been leading spacecraft operations and trajectory. Dr. GLH and SM are overseeing systematic data processing. Dr. EFY has been collecting Venus nightside imaging data from IRTF in support of Akatsuki mission. Dr. ACO has played a key role in the NASA-ISAS/JAXA collaboration for Akatsuki mission and overseeing the Participating Scientist Program. All authors read and approved the final manuscript.
Acknowledgements
We thank Mr. Patrick Fry (processing the MESSENGER images), Ms. Rosalyn Pertzborn (editing) and Mr. Robert J. Krauss (software support), all of whom are at Space Science and Engineering Center, UW-Madison. Critical comments from Drs. Colin Wilson and Dmitry Titov were valuable in improving this paper.
Competing interests
There are no financial and non-financial competing interests.
Authors' information
Prior to the Akatsuki mission, SSL has been studying Venus with data from Mariner 10, Pioneer Venus and Venus Express missions. Drs. Satoh and Iwagami have been studying Venus with ground-based observations as well as spacecraft for a long time. Drs. Lee and Peralta have experience with Venus Express as well as ground-based Venus observations. Other co-authors have been responsible for instrument calibration, observation planning, ground processing and spacecraft operations.
Ethics approval and consent to participate
Not applicable.
Funding
SS. Limaye is funded by NASA Grant NNX16AC79G (Participating Scientist in Residence) for Akatsuki mission. Drs. Nakamura, Imamura and Horinouchi are funded by JSPS KAKENHI Grant Number JP16H02231. T. Satoh was supported by JSPS KAKENHI Grant Number 16H05738. J. Peralta acknowledges support from JAXA's International Top Young Fellowship.
Publisher's Note
Springer Nature remains neutral with regard to jurisdictional claims in published maps and institutional affiliations.
Open AccessThis article is distributed under the terms of the Creative Commons Attribution 4.0 International License (http://creativecommons.org/licenses/by/4.0/), which permits unrestricted use, distribution, and reproduction in any medium, provided you give appropriate credit to the original author(s) and the source, provide a link to the Creative Commons license, and indicate if changes were made.
Authors' Affiliations
(1)
Space Science and Engineering Center, University of Wisconsin, Madison, USA
(2)
Space Information Center, Hokkaido Information University, Ebetsu, Japan
(3)
Institute of Space and Astronautical Science, Japan Aerospace Exploration Agency, Sagamihara, Japan
(4)
Planetary Exploration Research Center, Chiba Institute of Technology, Narashino, Japan
(5)
College of Science, Rikkyo University, Tokyo, Japan
(6)
Department of Complexity Science and Engineering, Graduate School of Frontier Sciences, The University of Tokyo, Kashiwa, Japan
(7)
Artificial Intelligence Research Center, National Institute of Advanced Industrial Science and Technology, Tokyo, Japan
(8)
Department of Complexity Science and Engineering, Graduate School of Frontier Sciences, The University of Tokyo, Kashiwa, Japan
(9)
Faculty of Environmental Earth Science, Hokkaido University, Sapporo, Japan
(10)
School of Commerce, Senshu University, Kawasaki, Japan
(11)
Department of Earth Sciences, Okayama University, Okayama, Japan
(12)
Tokai University, Research and Information Center, Hiratsuka-shi, Japan
(13)
School of Engineering, University of Shiga Prefecture, Hikone, Japan
(14)
Faculty of Science, Kyoto Sangyo University, Kyoto-City, Japan
(15)
Department of Information Engineering, National Institute of Technology, Matsue College, Matsue, Japan
(16)
ARC-Space, CAIST, The University of Aizu, Aizu-Wakamatsu, Japan
(17)
Southwest Research Institute, Boulder, USA
(18)
NASA Headquarters, Washington, USA